CEO of Tesla and Space X Elon Musk launched a monumental Twitter poll this week to determine if he will sell 10 per cent of his Tesla stock. The billionaire said he would comply with the results "whichever way it goes". Over 3.5 million users voted in the poll.
Musk released a poll on Saturday seeking input regarding his proposal to sell 10 per cent of his Tesla stock. He described it as "the only way for [Musk] to pay taxes" as he receives neither a cash salary nor a bonus.
"I only have stock, thus the only way for me to pay taxes personally is to sell stock," tweeted Musk.
Musk is currently the richest person in the world with a net worth of $318.4 billion.
Over 3.5 million people responded to the poll by the time it closed. Of those polled, 57.9 per cent supported Musk's proposal to sell a tenth of his stock.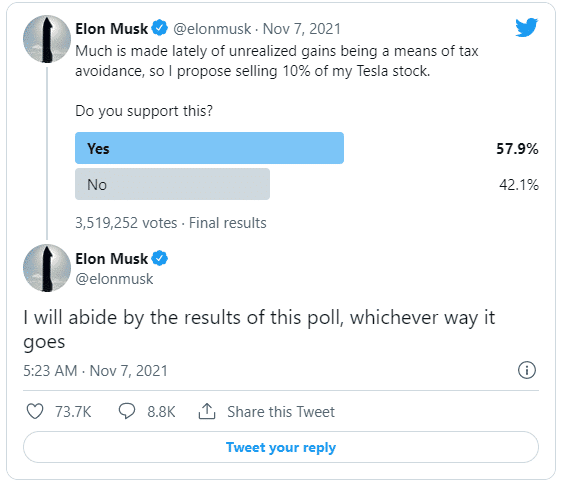 The poll came after Democrats in the United States recently pushed for the development of the Billionaires Income Tax Bill. The Bill would tax billionaires' assets, targeting those with upwards of $1 billion in assets or an annual income of over $100 million. If passed, roughly 700 rich Americans would be impacted.
The Bill also targets billionaires who avoid being taxed while profiting from unrealised gains. Unrealised gains are any increase in value of an asset or investment not yet sold.
Musk explained on Twitter that his poll was inspired by debates around the issue, saying "much is made lately of unrealised gains being a means of tax avoidance".
Democraft for Oregan Ron Wyden, who proposed the Billionaires Income Tax Bill last month, was critical of Musk's move.
"Whether or not the world's wealthiest man pays any taxes at all shouldn't depend on the results of a Twitter poll," he said.
"I was prepared to accept either outcome," said Musk following the finalisation of poll results.
Please support us by liking and following this page so we may continue to publish impartial news coverage.