This week Netflix released its earnings report for the year's third quarter. The site outperformed estimates for this quarter, reporting an addition of 4.4 million global paid net subscribers. Netflix has been trending upwards since mid-2021, with most recent reports far exceeding the year's first two quarters.
With the earnings report came an announcement: Netflix is changing how it records viewership data. The streaming giant hopes this will result in more accurate information regarding viewership engagement and retention.
The current metric records views according to the number of accounts viewing a given series or film. One aspect of this system that has produced inaccuracies is its failure to account for time viewed. This means that views are counted regardless of how long a viewer spent watching something. If someone chose to start Bridgerton but did not finish it, that would still count as a view.
The issue with this metric is its inaccuracy. It tells Netflix very little about how viewers are consuming media or how engaged they are in the site's content. Therefore, the new and improved metric will account for this.
Under the new metric, Netflix will record viewership according to hours viewed. This allows for a much more accurate indication of viewer retention and engagement. Previous Bridgerton data reported that, in the first 28 days on Netflix, the series was viewed by 82 million accounts. Now, Netflix can report the series' debut season was viewed for 625 million hours.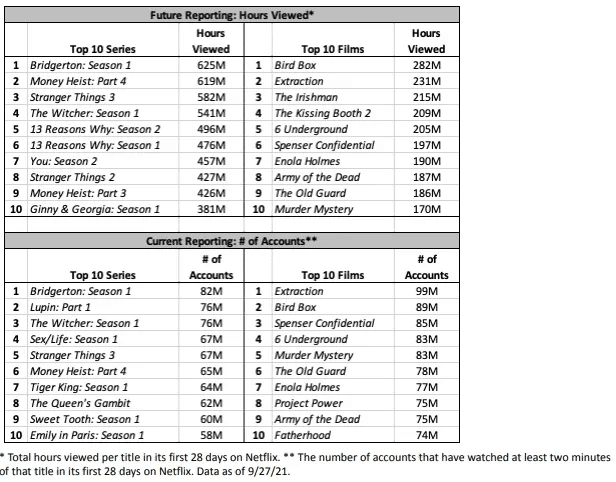 Another benefit of the new metric is that it accounts for repeat viewings. Netflix will now be able to see which series and films are being rewatched as opposed to counting one view per account.
"We think engagement as measured by hours viewed is a slightly better indicator of the overall success of our titles and member satisfaction. It also matches how outside services measure TV viewing and gives proper credit to rewatching," said Netflix in their most recent earnings report.
The new metric will supersede the current one later this year.