The agreement made by 197 countries at the end of COP26 may fall short of meeting essential climate goals. The final deal was officially adopted a day after the close of the climate summit after some last-minute amendments.
The two-week COP26 climate summit has finally wrapped up in Glasgow. Almost 200 nations came together hoping to pen profound agreements to slow the effects of climate change. While many deals were made throughout the summit, perhaps the most anticipated was the one made between all present nations at the very end of the event.
The Glasgow Climate Pact went through rigorous editing and amendments as the 197 nations came to compromises over their climate ambitions. It was hoped the deal would take meaningful strides in the direction of limiting global warming to 1.5 degrees Celsius above pre-industrial levels.
On Saturday, COP26 president Alok Sharma banged his gavel, symbolising no objections to the final deal. However, it took some work to get there.
India opposed some of the language used in the original iteration of the agreement, such as the repeated reference to 'phasing out' fossil fuels. Instead, India fought for the text to be changed to 'phasing down'. The change was made, but not without disappointment.
More vulnerable, developing nations had strong oppositions to watering down climate goals. However, it was a necessary to compromise to ensure all nations would agree.
"May I just say to all delegates, I apologise for the way this process has unfolded and I am deeply sorry," said President Sharma.
"I also understand the deep disappointment but, I think as you have noted, it's also vital that we protect this package."
Some negotiators protested the language amendments as they came after the official Friday deadline for the agreement, but they were overruled.
"I think today we can say with credibility that we've kept 1.5C within reach," said Mr Sharma.
"But its pulse is weak, and we will only survive if we keep our promises."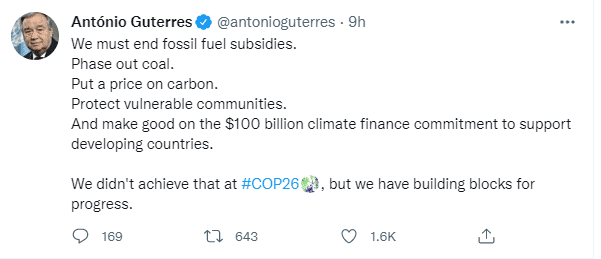 United Nations chief Antonio Guterres noted the agreement was a "compromise" that marked "time to go into emergency mode".
Those disappointed by the Glasgow Climate Pact may be somewhat comforted by the agreement struck between the US and China. The joint declaration will spearhead a years-long collaboration between the two nations to reduce emissions.
COP27 will take place in 2022 in Sharm El Sheikh, Egypt.
Please support us by liking and following this page so we may continue to publish impartial news coverage.