Two German universities have come together to create a UV-C light virus protection wall that could have the potential to protect spaces from bacteria and viruses including COVID-19.
The prototype was created by Smart United and scientists from both the University Hospital of Munich and the Technical University of Munich to combat the COVID-19 pandemic. According to researchers of the project the wall is "able to halt 99 per cent of viruses."
The way the wall works is interesting. When a person walks through the hanging wall, the UV lights turn on and kill any kind of virus or germs the person may be carrying as the radiation from the UV lights kills the bacteria. Once the person walks through the wall, the lights turn off again.
A constant flow of vapor is forced in between the gaps to ensure that any air that enters the space has been hit by radiation. Andreas Wieser a senior physician at the University Hospital of Munich stated that this technology if able to work effectively would be a game changer.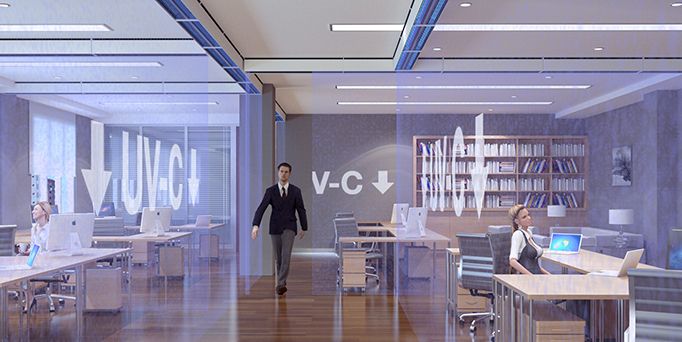 "This is almost completely impermeable to pathogenic germs at normal air speed, even if one coughs or sneezes with a little distance, bacteria or viruses are basically unable to pass through the wall alive," he said.
"The result is that you create a barrier that you can't hear, can't see, can't smell, can't feel, but which can separate air spaces for which you would otherwise need a panel of glass or a plexiglass pane,"
"The idea behind the project is to create a way for people to still safely share indoor closed spaces, without wearing masks."
To comply with health and safety regulations the UV walls limit the exposure of radiation due to specialised optics. Reiner Prohaska managing director of Smart United hopes that they will be able to bring this product to the market very soon.
"Alongside the scientific validation of the system, we have started preparing production with well-known suppliers in the automotive industry, "he said.
"Starting in early January, we will commence space planning with our first customers,"
"In April, we will deliver the first UV-C light virus protection walls – with the goal of returning a piece of normality to people's lives."
Technology such as this could be a game changer in the fight against COVID-19.