Production has been officially suspended on the set of comedy icon Bill Murray's new film Being Mortal, following an investigation into the 71-year-old's behaviour on set.
The details of Murray's alleged conduct have not yet been made public, although a statement is expected over the weekend after production was originally halted on April 18.
Details of who made the complaint have so far been suppressed.
Producers of the film announced an indefinite pause on filming until the investigation is complete, with cast and crew being notified yesterday in a letter.
"Late last week, we were made aware of a complaint, and we immediately looked into it," Searchlight Pictures (who are also distributing the film) said in the letter.
"After reviewing the circumstances, it has been decided that production cannot continue at this time.
"Our hope is to resume production and are working with (producers) Aziz [Ansari] and Youree [Henley] to figure out that timing.
"Production will be in touch with you to share details on the wrap, and we will let you know as soon as we have more information to share."
Directed by Netflix series Master of None star Ansari, and co-starring Seth Rogen, principal photography began in March.
The film is based on the non-fiction book called Being Mortal: Medicine and What Matters in the End by American surgeon Atul Gawande, which discusses end-of-life and hospice care.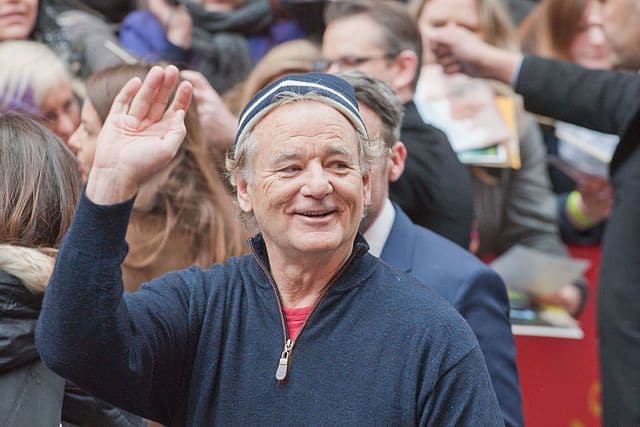 This is not the first time the enigmatic Murray's behaviour has been brought up on a movie set, as the Ghostbusters and Caddyshack star is notorious for having heated discussions and even physical altercations over creative differences.
Most infamously, the deadpan humour specialist allegedly made "inexcusable and unacceptable" comments to Charlie's Angels co-star Lucy Liu in 2003, to which Murray responded in kind.
"Look, I will dismiss you completely if you are unprofessional and working with me … When our relationship is professional, and you're not getting that done, forget it," he said in a 2009 Times of London interview.
Murray has enjoyed a long and successful career, having won a Golden Globe, and gaining an Academy Award nomination in 2003 for Lost in Translation, to go with two Primetime Emmy Awards (most recently winning Best Supporting Actor in a Limited Series or Movie in 2015 for Olive Kitteridge).
He was most recently seen reprising his role as cultural icon Dr Peter Venkman in Ghostbusters: Afterlife and has finished filming for Marvel's Ant-Man and the Wasp: Quantumania.
More to come.