Former Collingwood coach Nathan Buckley says he would refuse to be drawn into a war of words with AFL premiership player Heritier Lumumba after more explosive allegations were aired.
Lumumba, known as Harry O'Brien during his 199-game career at Collingwood, alleged that pornographic images were used in a team meeting, before doubling down on his feud with Buckley.
After claims of systemic racism during his time there, Lumumba also said that former Magpies CEO Gary Pert made sexually inappropriate comments to players' wives and girlfriends.
"An assistant coach showed a pornographic image during a team meeting to emphasise a point he was making," the 35-year-old said.
"Nathan Buckley was the head coach and seemed unfazed by it all."
Buckley responded emphatically on SEN.
"I'm not going to be drawn into detail and I'm not going to say that Heritier's right here, wrong here because that is his perspective of the truth," he said.
"But there are other versions of the truth that are a long way away from the way that he perceives it.
"It seems that Heritier doesn't really want to move forward unless, I don't know, heads need to roll.
"I don't know exactly what he's looking for or what his requirements are to feel like he has been heard."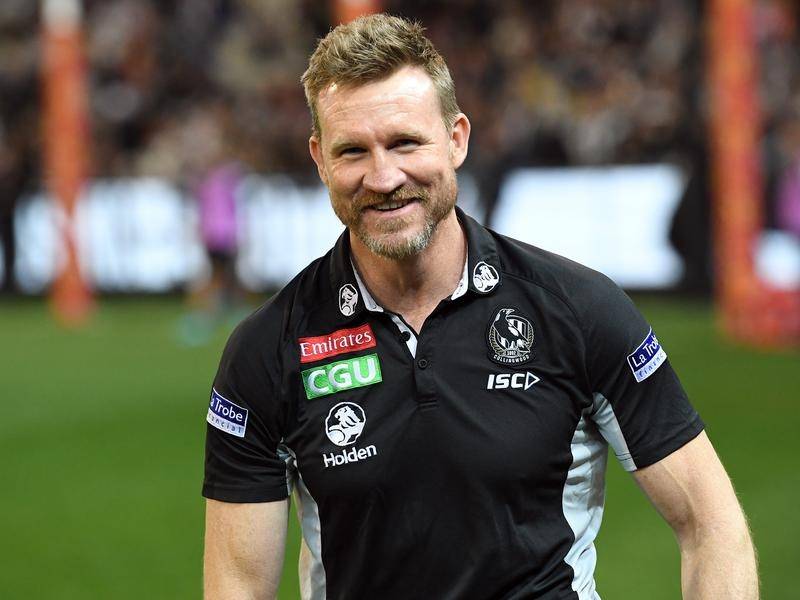 Buckley allegedly stared and Lumumba during meetings, leading to a confrontation in which Buckley apparently "judged him for his intelligence" and said that he was "demanding too much from the club".
Instrumental in Collingwood's drought-breaking 2010 AFL premiership win over St Kilda, Lumumba finished his career with 24 games for Melbourne, retiring in 2016.
The following year, a documentary called Fair Game chronicling Lumumba's life was released, in which he detailed incidents of racism at Collingwood; he then stated in 2020 that Buckley told him to back off his accusations of entrenched club racism as it would throw Magpies president Eddie McGuire "under the bus".
His comments were rejected by Buckley, McGuire and former coach Mick Malthouse, but numerous players affirmed Lumumba's accounts.
Last year, a report was leaked to the media where it found Collingwood guilty of systemic racism.
Buckley is considered a legend of Australian Rules football, winning the Brownlow Medal in 2003 and making the All-Australian team on seven occasions, being inducted into the Australian Football Hall of Fame in 2011.
He captained Collingwood for nine seasons and played 260 games in the black and white before serving as coach for a further 218 games.