Elon Musk has now sold $5 billion USD in Tesla shares, keeping up his end of a deal following a viral Twitter poll this week. The Tesla and SpaceX CEO's poll asked his over 63 million followers if he should sell 10 per cent of his stock.
Earlier this week the world's richest person sought the advice of the internet. Musk initiated the poll and promised to comply with the outcome, tweeting that selling his shares would be the most direct means of paying taxes. Over 3.5 million people responded, with 57.9 per cent voting in favour. Within days, Musk complied.
Musk's trust offloaded upwards of 3.5 million shares, with Musk himself separately selling close to another million. The second transaction had been planned to take place prior to the poll. The shares sold thus far equate to roughly 3 per cent of his Tesla stakes. He has yet to sell the entire 10 per cent promised.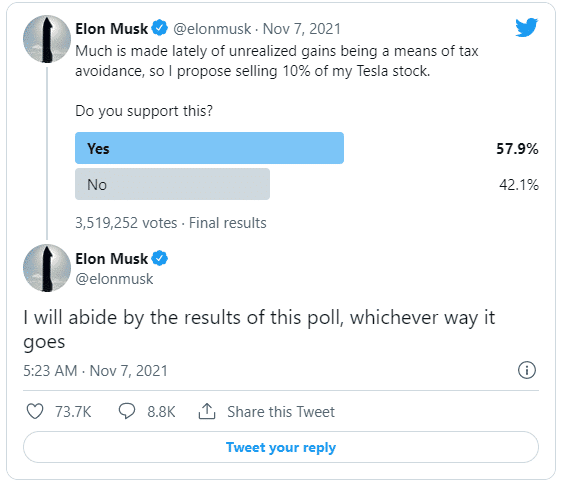 In the days following Musk's poll, Tesla stock fell by over 15 per cent. However, it recovered near the end of the week by 4 per cent.
Musk has also shared he is likely to sell a further substantial amount of his shares in the fourth quarter this year as the expiry of his stock options draws closer. August 2022 will see upwards of 20 million stock options expire.
Prior to this week, Musk had a 17 per cent stake in Tesla, valued at around 170 million individual shares. The tweet came in response to the Billionaires Income Tax Bill proposed by US Democratic Senator Ron Wyden.
The Bill would target and tax unrealised gains from billionaires' investments as a means of ensuring the wealthiest would be able and obligated to pay taxes. Unrealised gains are the increased values of investments not yet sold.
"Whether or not the world's wealthiest man pays any taxes at all shouldn't depend on the results of a Twitter poll," Senator Wyden tweeted regarding Musk's poll.
"It's time for the Billionaires Income Tax," he said.
The press has done little to slow Tesla down. The automotive corporation has increased in value by over 51 per cent this year alone.
Please support us by liking and following this page so we may continue to publish impartial news coverage.