Tim Paine has stepped down from his role as Australian Test captain in light of an investigation conducted by Cricket Australia. The investigation pertained to text messages sent by Paine to a co-worker in 2017.
Paine has been captain of the Australian men's Test team since 2018. This afternoon he has announced he will resign.
"It's an incredibly difficult decision, but the right one for me, my family, and cricket," Paine said in a press conference today.
The former captain's resignation comes after an investigation into unsolicited sexual messages Paine sent to a then-colleague. The texts were sent on the eve of the Ashes 2017, the year prior to Paine's promotion to captain.
The recipient told Cricket Australia authorities that she was insulted by Paine's "sexually explicit, unwelcome and unsolicited photograph of his genitals in addition to the graphic sexual comments".
The woman who received Paine's texts made complaints to both Cricket Australia and Cricket Tasmania.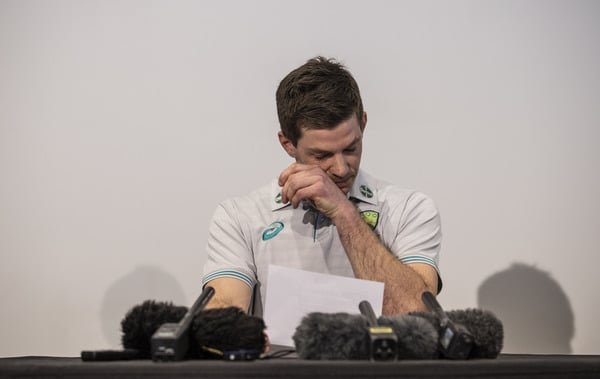 "Nearly four years ago, I was involved in a text exchange with a then-colleague. At the time, the exchange was the subject of a thorough CA [Cricket Australia] Integrity Unit investigation, throughout which I fully participated in and openly participated in," said Paine.
Following an investigation, Cricket Australia determined that Paine had not breached their Code of Conduct.
"On reflection, my actions in 2017 do not meet the standard of an Australian cricket captain, or the wider community," said Paine.
The Ashes are set to begin in just under three weeks.
"I'm deeply sorry for the hurt and pain that I have caused to my wife, my family, and to the other party. I'm sorry for any damage that this does to the reputation of our sport."
It has not yet been determined who will replace Paine as captain.
Please support us by liking and following this page so we may continue to publish impartial news coverage.