The pandemic housing boom is likely to come to an end with house prices falling in 2023, says ANZ. Although this year saw an over 20 per cent increase of house prices, Australian bank ANZ forecasts the bubble will burst over the next two years.
According to analysts at ANZ, next year housing prices are expected to rise by around 6 per cent before falling by 4 per cent in 2023.
As the world opens back up after almost two years of lockdowns and quarantines, ANZ economists Felicity Emmett and Adelaide Timbrell suggest a looming "slowdown" is sure to impact the nation's housing market. However, they are not yet certain when the slowdown would begin, noting that interest rates would be a major determining factor.
Emmett and Timbrell co-authored ANZ's 'Australia's Housing Rolling Over' report.
According to the economists, the Reserve Bank of Australia is predicted to maintain current rates of 0.1 per cent until the beginning of 2023.
"Affordability constraints are biting, new listings have lifted strongly, and macroprudential tightening and higher mortgage rates are set to constrain lending over the coming year," they wrote in their annual report.
Although falling prices may seem like a stroke of good luck for hopeful homeowners, the authors warn this will not mean a return to pre-pandemic costs.
"If our forecasts pan out, housing will be 27 per cent more expensive at the end of 2023 than at the end of 2019," Timbrell explained.
The economists also suggest the construction industry will see a similar fall after an ongoing boom.
"We expect housing construction to grow another 15 per cent by mid-2022, before activity brought forward by government incentives starts to dry up."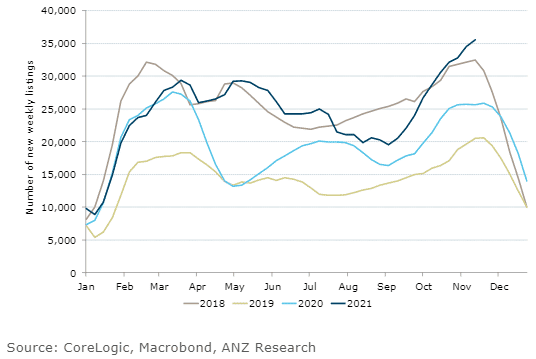 Prospective first-time homebuyers have had a tough year, with 2021 showing the highest housing price growth since the late 1980s.
For those in lockdown-affected areas, prices have surged significantly.
Data from 2021 shows that the median house price for a home in Sydney increased by over 30 per cent to more than $1.3 million.
Major banks, including Commonwealth Bank and Westpac, have seen rising mortgage prices that may deter future homebuyers.
Please support us by liking and following this page so we may continue to publish impartial news coverage.