NASA's Hubble Telescope has broken a new record by capturing an image of light from the furthest star seen yet that according to astronomers existed within the first billion years after the big bang.
This occasion marked an important milestone for the space agency as it is now the most distant star ever seen and recorded. Scientists have named it Earendel with the  star thought to be around 12.9 billion years away from earth and existed when the universe was four billion years old.
According to astrophysicists Earendel is about 50 times larger than the sun and "millions of times as bright". Astronomer at Johns Hopkins University Brian Welch said that the discovery was unbelievable.
"We almost didn't believe it at first, it was so much farther than the previous most-distant, highest redshift star," he said.
"Normally at these distances, entire galaxies look like small smudges, with the light from millions of stars blending together."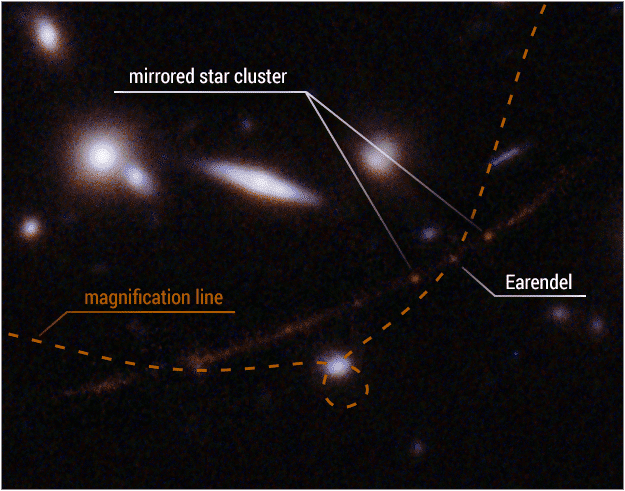 NASA says that the discovery of this distant star was only possible because of its location within a big galaxy cluster which warps to act like a natural magnifying glass and therefore giving scientist the ability to view it. Mr Welch said hopefully there will be more breakthroughs like that of Earendel in the future.
"Studying Earendel will be a window into an era of the universe that we are unfamiliar with, but that led to everything we do know," he said.
"It's like we've been reading a really interesting book, but we started with the second chapter, and now we will have a chance to see how it all got started."
Earendel was discovered amongst data by the Hubble RELICS program team where co-author of the study Dan Coe at the Space Telescope Science Institute (STScI) said that further observations will be made the James Webb Telescope.
"With Webb we expect to confirm Earendel is indeed a star, as well as measure its brightness and temperature," he said.
Earendel means "morning star" in Old English. The previous distance record belonged to a star named "Icarus" with the light of the blue star taking over nine billion years to reach the earth.