The Australian Transport Safety Bureau (ATSB) have released details on the fatal helicopter crash that claimed the life of crocodile wrangler and TV star Chris Wilson.
On February 28, Wilson and several others took three helicopters out to the Northern Territory's West Arnhem Land to collect crocodile eggs. He was at the bottom of a 30-meter rope, that was attached to the helicopter when according to investigations the main rotor blade struck and cut through a tree trunk before it hit the ground up right.
ATSB Director Transport Safety Stuart Macleod said that another helicopter returned to the area after not hearing from Wilson for quite sometime, but upon arrival found him fatally injured.
"Preliminary analysis of the site by ATSB investigators indicated the accident sequence had occurred while the helicopter was travelling in a north-west direction, shortly after it left the staging area," said Mr Macleod.
"Initial assessment indicated the engine had stopped prior to the helicopter colliding with the ground".
Pilot of the helicopter, Sebastian Robinson, was taken to hospital with serious injuries but survived. Investigators believed the crash happened 90 minutes before it was found.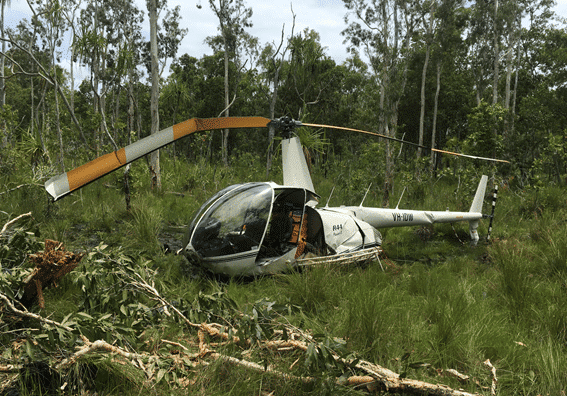 Chris Wilson was a part of the popular National Geographic show Outback Wrangler and was remembered fondly by colleague and show front man Matt Wright and his family.
"[They] are heartbroken by the loss of their best friend and highly respected colleague Chris 'Willow' Wilson," The Fordham company said.
"Our love and thoughts are with Chris's wife Danielle and two little boys Ted and Austin."
Mr Macleod said that the investigation will continue.
"This preliminary report details factual information established in the investigation's early evidence collection phase, and as such does not detail analysis or findings, which will be outlined in the investigation's final report," he said.
"As the investigation progresses, the ATSB will include review and examine of electronic components retrieved from the accident site.
"Fuel system components, refuelling practices and fuel quality will also be reviewed and examined, as well as relevant maintenance records, operational documentation and regulations."
Wilson died at the age of 34.