The Coalition Government has labelled the freshly signed Solomon Islands security deal with China as a "lack of transparency" and "deeply disappointing", potentially giving China a military presence in the South Pacific.
The pact means that Solomon Islands will see direct support from Beijing, across issues such as social order and national security.
China could now have naval and aviation forces less than 20,000km away from Australia's most northern point, after tensions over trade agreements reached boiling point last year.
China released a statement saying the signing was "not directed at any third party", amid fears of a presence in Pacific waters.
Prime Minister Scott Morrison told reporters in Adelaide that he did not attend the Islands as slated last week to avoid placing "unnecessary pressure" on the decision-making process.
"The Foreign Minister is a different level to the Minister of Pacific. One is in cabinet, one is not. You calibrate your diplomacy to deal with sensitive issues," he said.
"In the Pacific, one of the things you [have] got to be very, very cognisant of is there is a long history of frankly countries like Australia and even New Zealand and others coming around and treating Pacific Islands like they should be doing what the big countries tell them to do.
"I'm not going to act like former administrations that treated the Pacific like some extension of Australia.
"The Pacific Islands are very sensitive to that, and I have always had an approach with the Pacific Islands which understands those sensitivities because there is a lot at stake."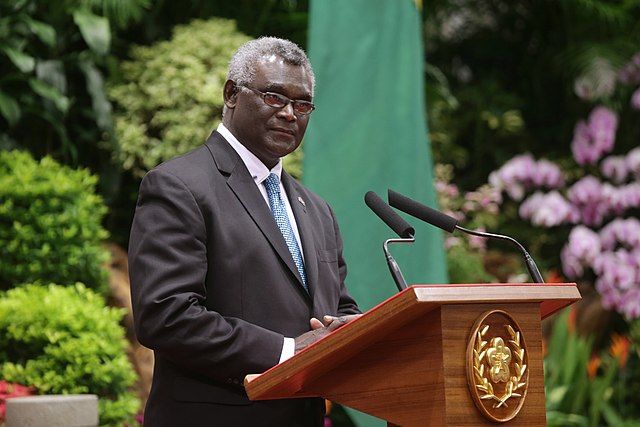 Solomon Islands ignored warnings from Australian officials about being allied with China, yet no pact was signed reestablishing the relationship between the two Pacific nations.
Shadow Foreign Minister Penny Wong said the bungled deal was among the worst foreign moves Australia had made since World War II.
"Securing our region at this time is such an imperative for any government that this should have been something that Mr Morrison dealt with — but he went missing," Senator Wong said.
"I think what this still signifies is that Australia is no longer, for … Solomon Islands, the nation to whom they turn to meet their challenges in every instance.
"And, instead of taking responsibility and dealing with this as a leader should, in the interests of the nation, he sends a junior woodchuck at the last minute."
Solomon Islands Prime Minister Manasseh Sogavare defended the pact earlier today, saying the country went into agreement with China with its "eyes wide open".
"We intend to beef up and strengthen our police capability to deal with any future instability by properly equipping the police to take full responsibility of the country's security responsibilities, in the hope we will never be required to invoke any of our bilateral security arrangements," he said.
Let us know your thoughts on this over social media. Does this new security pact involving China involve us?