An explosion at an illegal oil refinery in southern Nigeria has seen over 100 people killed with Nigerian President Muhannadu Buhari calling it a "catastrophe and national disaster".
The explosion occurred on Friday night in the Ohaji-Egbema area of the Imo state where authorities say the blast was caused by a fire in two fuel storage areas. Originally 80 people were believed to have died but the toll has risen after numerous people passed from their injuries over the weekend.
Executive Director of Youths and Environmental Advocacy Centre Fyneface Dumnamene detailed that majority of the people killed were young.
"Several bodies burnt beyond recognition lay on the ground while others who may have attempted to run for safety are seen hanging on some tree branches," she said.
A representative of the National Emergency Management Agency (NEMA) said that "illegal operators and their patrons scampered to safety". Police are seeking the operators of the illegal oil refinery and said that they will be prosecuted with President Buhari adding that they perpetrators "must all be caught and made to face justice".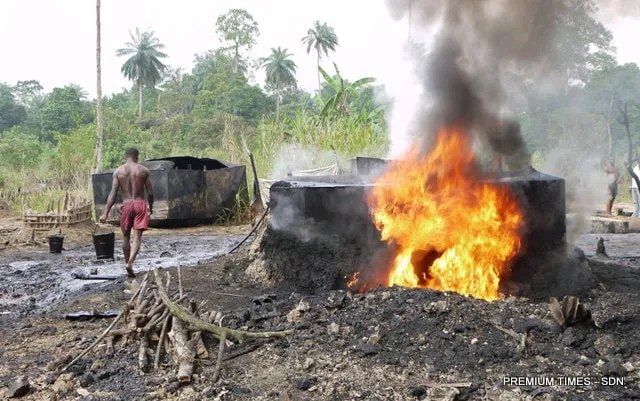 Nigerian publication Vanguard reported that over 150 illegal oil refineries have been abandoned by operators amid the government allegedly now cracking down on the illegal facilities. Imo State Commissioner for Petroleum Resources Goodluck Opiah noted that one Okenze Onyewoke is wanted in connection with the explosion.
"Anywhere he is seen, he will be arrested and used to teach others doing this business, a big lesson," they said.
"We have warned people severally to stop these illegal oil bunkering and I think this will serve as a lesson to others venturing into this business.
"We also sympathise with the families of those who lost their lives in this unfortunate incident."
Imo State Comissioner Declan Emelumba said that the government is planning a mass burial with environmental officials already beginning to clean up the area. Local media reports say that wildlife and animals were harmed in the explosion, mainly fish in the nearby river which services local fisherman and farmers.