Teachers across NSW will officially walk off the job tomorrow, after a final-minute olive branch from the state government failed to placate the Teachers Federation.
Wage increase negotiations have been postponed until after June's state budget, as the wage policy being discussed with the union is yet to be finalised.
Teachers voted for a second time to go ahead with a strike last month, as they and other public service workers protest the government's long-time 2.5 per cent wage cap, essentially an extra tax on top of what public health workers already pay.
According to the campaign's website, there are over 1000 unfilled full-time teaching positions unfilled in NSW, and one in every eight teachers leave the profession within the first six years due to the pay.
At Parramatta Public School speaking this morning, NSW Premier Dominic Perrottet was interrupted by a group of teachers holding union placards in protest.
Wearing bright red shirts with the slogan "teachers deserve more than thanks, they deserve a pay rise" today, the union is expected to be out in force tomorrow.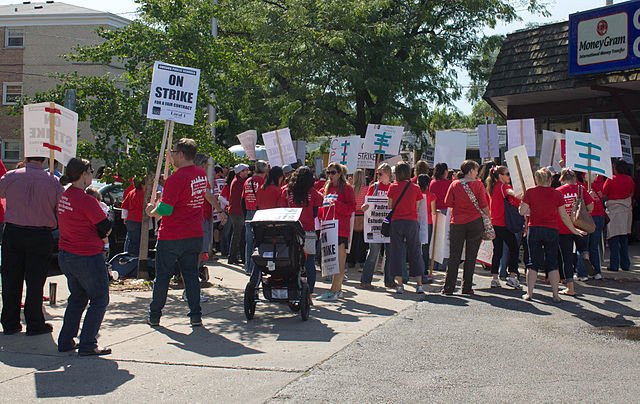 Some public schools will be closed across the state, whilst others (mainly private) will remain open with limited staff.
Mr Perrottet said he understood the federation's position, but that the resolution was in progress.
"What I have said is that we are working through all the industrial issues across the NSW public service," he said.
However, the teachers believe it's just a stalling tactic to gain political clout.
"There is no guarantee," Teachers Federation president Angelo Gavrielatos said this morning.
"Last week we got a vague announcement by the Premier that they will look at salaries in the context of the budget."
Little has been revealed about the government's plans, apart from a statement saying the award negotiations were set to be heard in the Industrial Relations Commission this month.