Experts believe this latest discovery of a Denisovan girl's tooth in southeast Asia can lead them to unlock secrets about the history of human evolution.
The ancient Denisovan humans were roaming around earth up to some 130,000 years ago with experts believing they originated from the northern hemisphere.
In 2010, traces of these ancient people were found when researchers stumbled upon a finger bone in a deep and cold cave in Siberia, later called Denisovan Cave. DNA testing soon revealed that remnants of Denisovan DNA was still minutely present in indigenous people of Southeast Asia and Australasia.
"After all this work following the many clues written on fossils from very different geographic areas our findings are significant,' said study author and assistant professor at the University of Copenhagen Fabrice Demeter.
This tooth though, helps to prove their theory that this species integrated with humans and had a reach far greater than just the colds of Europe. It was found by an international group of experts in a Laos cave called Tam Ngu Hao 2 aka Cobra Cave.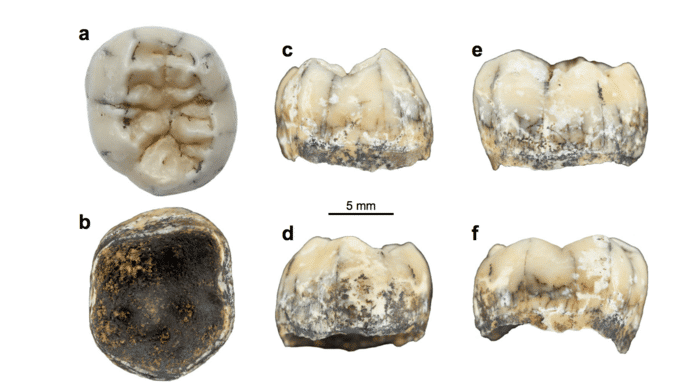 Researchers believe the tooth (molar to be exact) came from a young female, aged from three to eight who lived in the area anywhere from 131,000 to 164,000 years ago. Denisovan traces have now been found in multiple places around the world, Siberia, Laos and Tibet where the species teeth were also uncovered a few years ago.
"They may have been just at home in the balmy tropical climates of Laos as the icy conditions of northern Europe and the high-altitude environments of the Tibetan Plateau. This suggests the Denisovans were very good at adapting to diverse environments," said researchers.
"It would seem that Southeast Asia was a hotspot of diversity for humans. At least five different species set up camp there at different times: Homo erectus, the Denisovans/Neanderthals, Homo floresiensis, Homo luzonensis, and Homo sapiens.
"How many of these species overlapped and interacted? Another fossil discovered in the dense network of Southeast Asian caves could provide the next clue to understanding these complex relationships."
Also found in Cobra Cave was teeth from ancient elephants and rhinos, with scientists agreeing they were washed into the cave during a flood.