On Friday June 24 the US Supreme Court voted to overrule the constitutional protection of women's rights to abortion, a decision which has received criticism and praise from the global community.
After months of deliberations, the Supreme Court ruled that the "Constitution does not confer a right to abortion" and that the landmark abortion rights cases of Roe v Wade and Casey v Planned Parenthood are overruled.
They declared that the right to an abortion "is returned to the people and their elected representatives" essentially meaning it's down to US states to decide where they stand on the issue.
Internally the news has caused chaos with those for and against arguing strongly for their opinion and voice to be heard. The world has been watching on with eager eyes to see what the next step will be.
President Joe Biden has mentioned that the original decision from Roe v Wade needs to be restored but until then will vigorously protect the rights of women who travel to another state for an abortion or seek to have contraception and other preventive health care like the abortion pill known as mifepristone.
However, others are saying the US Supreme Court will move onto other rights that may not particularly be favourable or viewed in light by the Republican led court. Justice Clarence Thomas has previously stated that the decisions of Griswold, Lawrence and Obergefell should be "reconsidered".
These cases relate to same-sex intimacy, same-sex marriage as well as the right to obtain contraception.
According to the Charlotte Lozier Institute, back in 2013 the US ranked second behind China for the country with most abortions with over 1.2 million annually.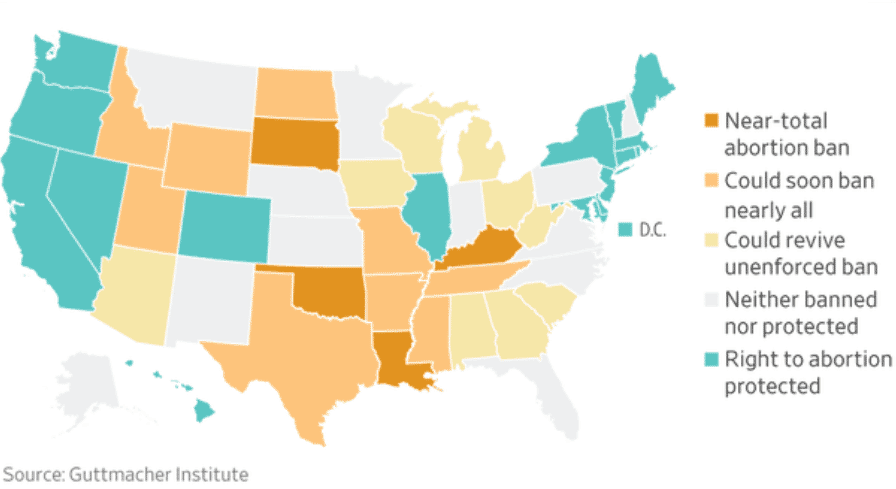 While it remains unknown where this issue will lead next, the world certainly has an opinion.
New Zealand Prime Minister Jacinda Ardern called the situation "wrong".
"Democracy – the right of people to exercise a vote, have their voice heard and then have that decision upheld peacefully should never be undone by a mob."
Her remarks come after NZ's decision to legalise abortion back in 2020, an election promise she saw through. She also said that she believes "democracy will prevail".
Although he hasn't commented on the US decision, Polish President Andrezej Duda enacted a ban on almost all abortions back in 2020. On the matter, he stated "I have never concealed it, that abortion for so-called eugenic reasons should not be allowed in Poland. I believed and believe that every child has a right to life".
In contrast to that, French President Emmanuel Macron has been outspoken, offering his support to "women whose liberties are being undermined". He mentioned that "abortion is a fundamental right for all women", a comment that's inline with the countries laws which recently saw on demand abortions extended to 14 weeks earlier this year.
El Salvador completely banned abortion in 1998 and a year after passing legislation amended their constitution to recognise that human life started from the moment of contraception. Prominent El Salvadorian pro-life campaigner Sara Larin, President of Fundacion Vida SV, said "The fall of Roe v Wade is as historic as the fall of the Berlin Wall".
"It is the beginning of the end of abortion, it is as important as the abolition of slavery in the US".
Bringing it back home, Prime Minister Anthony Albanese said earlier this morning that it's "a good thing" that Australia doesn't have to "deal with it in the same way that has seen the division in the United States".
In every state and territory around Australia abortion is legal with South Australia the last state to legalise it in 2021.