The actress best known for her role as Lieutenant Nyota Uhura in Star Trek has passed away from natural causes at age 89.
Her son, Kyle Johnson, broke the news on Sunday saying, "a great light in the firmament no longer shines for us".
"Last night, my mother, Nichelle Nichols, succumbed to natural causes and passed away. Her light however, like the ancient galaxies now being seen for the first time, will remain for us and future generations to enjoy, learn from and draw inspiration."
Nichols came to notoriety through her character Lieutenant Uhura on Star Trek: The Original Series for being one of the first African American women to have a major role on a television series.
In the shows first season, she considered leaving and even handed in her letter of resignation to showrunners, but Dr Martin Luther King Jr convinced her to stay, citing the importance of having representation.
"We will be seen as we should be seen every day, as intelligent, quality, beautiful people who can sing, dance and go to space, who are professors and lawyers," Dr King told her.
She carried on with her role and broke down more barries with her co-star William Shatner when the pair shared an on-screen kiss. It's being considered by most to be one of the first times an interracial kiss was displayed on TV.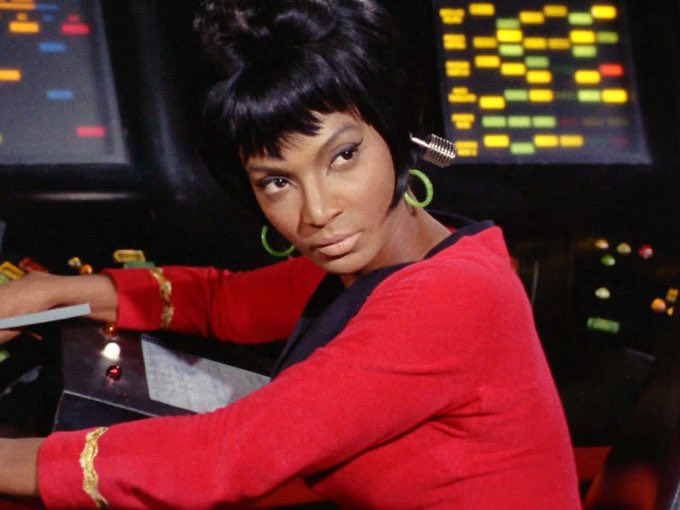 After the show finished in 1969, Nichols went onto to have a lengthy career, reprising her Stark Trek role numerous times over the past 50 years and starring in films like Snow Dogs, Are We There Yet?, while featuring in TV shows such as The Simpsons, Heroes and Futurama.
William Shatner took to Twitter and expressed his sadness on the news of her death.
"I am so sorry to hear about the passing of Nichelle. She was a beautiful woman and played an admirable character that did so much for redefining social issues both here in the US and throughout the world. I will certainly miss her".
Various celebrities including Lynda Carter, Stephen King and George Takei also paid tribute.
As well as being an actress, Nichols worked closely with NASA to encourage women and minorities to join the space agency.
"We celebrate the life of Nichelle Nichols, Star Trek actor, trailblazer, and role model, who symbolized to so many what was possible. She partnered with us to recruit some of the first women and minority astronauts, and inspired generations to reach for the stars," NASA said on Twitter.