China's developing crises may spell good news for Australia in the months to come. The nation is currently threatened by a looming financial crisis as real estate giant Evergrande is set to default on a debt worth hundreds of millions of dollars. The default is likely to have far-reaching consequences on the wider Chinese economy that may stand to benefit Australia's energy commodity exports.
China's Evergrande Crisis
China is under major pressure right now with the unfolding Evergrande situation. Last month the real estate group failed to pay a scheduled interest payment to bondholders. With this month's deadline (Saturday 23 October) fast approaching, Evergrande is likely to default on the payment.
According to the Wall Street Journal, Evergrande's liabilities currently stood at $304 billion in the middle of this year. 42 per cent of the company's accrued debt was due to be paid this year.
China is also experiencing a power crisis due to rising industrial power consumption. Pressure from the electricity shortage has forced China to axe current plans to cut carbon emissions and increase coal consumption.
"Like other markets in Asia and Europe, China must perform a balancing act between the immediate need to keep the lights on—via more coal—and showing its commitment to increasingly ambitious decarbonisation targets," Gavin Thompson, Asia-Pacific vice chair at energy consultancy Wood MacKenzie, told CNBC.
Although the looming situation spells trouble for China, it may be the touch of luck Australia needs.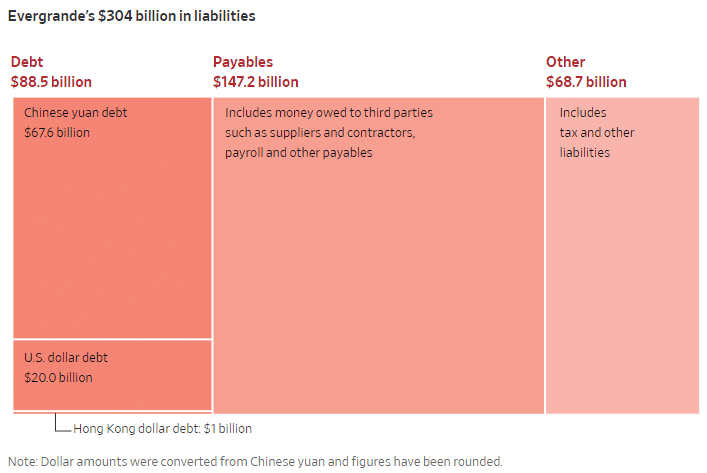 Impacts on Australia
Australia was initially stricken by misfortune earlier this year when China's developing crises resulted in an iron ore crash. The price of iron ore collapsed to $US90/tonne, resulting in a price collapse of more than 60 per cent since its peak in May. The crash shook experts' confidence in Australia's top export.
Since then, China's losses may just be Australia's gain. Now experiencing a boom in commodity exports, the surge in prices has allowed the sector to boost spending while recovering from losses earlier in the year.
The relationship between China and Australia has been especially fraught over the past two years. Beijing has steadily rolled out more and more trade tariffs and sanctions on Australian exports. Meanwhile, Australia has challenged the measures with the World Trade Organisation.
According to China, tariffs on Australian exports are a necessary retaliation to a relationship breakdown for which Australia "bears full responsibility." Australia's decision to call for investigation into the origins of the Covid-19 pandemic have also damaged the relationship between the two nations.
As China continues to grapple with its looming challenges, it may have more direct impacts on the Australian economy in future.