Bitcoin prices are surging at an all-time high this week following the crypto-giant's highly anticipated trading debut. Bitcoin's first futures exchange-traded fund (ETF) debuted under the ticker BITO on Tuesday. The next day, bitcoin prices skyrocketed to over $66,000. Prior to this week, bitcoin last peaked at $64,899 in April.
Investors predict bitcoin may rise even further in the coming months following a price surge of 50 per cent over a one-month period. Bitcoin has risen significantly since its value of $44,000 at the end of September with no sign of stopping.
"Given the price momentum we are seeing on the back of bitcoin's ETF, we believe that bitcoin can easily go all the way to [$100,000] by the end of this year," Avatrade's chief market analyst Naeem Aslam said.
Prices have fallen back down since the initial surge.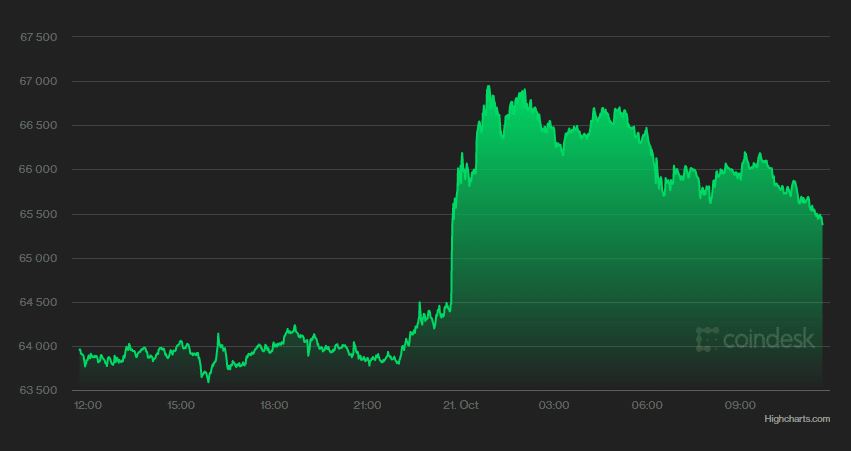 So, what might the surging popularity of cryptocurrency mean for the average individual investor? Kent Baker, a finance professor at American University, warns about the dangers of social 'herding' with investments.
'Herd instinct' is a term frequently used in the financial sector to describe the act of too readily following the investment patterns of groups under the assumption they must be well-informed. When individual investors fail to do their own research, herd instinct can lead them blindly into sticky financial situations.
"By the time most individual investors get into a rising investment, it's often too late," said Professor Baker.
However, personal finance expert Humphrey Yang told NextAdvisor that investors should not be too afraid of sudden price increases.
"I know these things are super volatile, like some days they can go down 80 per cent," said Mr Yang.
"But if you believe in the long-term potential of [Bitcoin], just don't check on it. That's the best thing you can do."
Douglas Boneparth, president of Bone Fide Wealth, warns against ignoring surges in "stick[ing] your head in the sand."
"The reality here is you're watching an entire decentralized financial system being built before your eyes."
Whether or not to take the plunge into cryptocurrency is a challenging and nuanced decision. As can be seen with bitcoin in the last few months, the potential to win big and lose big is ever-present. Investors may benefit from keeping up to date with the rises and falls of bitcoin in the coming months to see how it all shakes out.
This information on this site is for general information purposes only. It is not intended as financial or investment advice.