The cryptocurrency originally introduced as a rival to the meme-based currency Dogecoin is now rapidly increasing in value. Shiba inu, also known as SHIB, has surged by over 67 per cent in the last 24 hours.
The currency was created by an anonymous creator known as "Ryoshi" as a rival to the up-and-coming dogecoin. The coin, featuring an image of a Japanese dog, has since gained attention after a petition circulated seeking for Shiba inu to be added to trading platform Robinhood. The petition has over 330,000 signatures.
Shiba inu has now increased in rank from 13th largest crypto to 11th, according to CoinMarketCap. The currency even momentarily surpassed the second-largest cryptocurrency, Ethereum, in trading volume.
Shiba inu is based on the Ethereum blockchain, which has been used widely by upcoming tokens hoping to break into decentralized finance, or "DeFi". DeFi replicates lending and trading schemes without having to go through an intermediary such as a bank or broker. Buyers and sellers can instead interact on a direct peer-to-peer basis.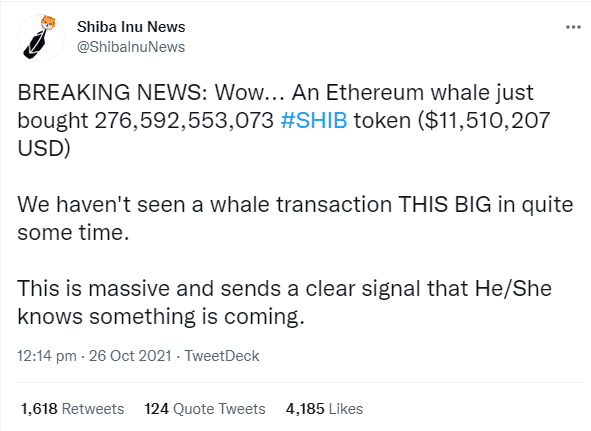 The major rise is attributed to a whale purchase. Whales are defined as either people or organisations with the wealth to buy or sell enormous quantities of a given asset, often significantly contributing to changes in the asset's value. Reports indicate an Ethereum whale bought 276,592,553,073 SHIB tokens, valued at over $11 million USD.
Shiba inu has been gaining mainstream success over time, with one of Paris' most exclusive restaurants now accepting the currency. Rival meme currency Dogecoin has lost value by approximately 7 per cent in the last 24 hours.
The cryptocurrency also surged earlier in the month, when tech billionaire Elon Musk tweeted an image of a shiba inu dog. This breed is also the mascot for Dogecoin, with Musk being referred to as the "Dogefather" for his open investment in the coin.
Shiba inu's value has slightly declined since hitting its peak.