Facebook founder and CEO Mark Zuckerberg has announced the company's name has been changed to 'Meta'. The change was announced at the company's virtual and augmented reality (VR and AR respectively) conference Facebook Connect. While the social media site will maintain its name, Meta will become the catch-all moniker for the overarching corporation.
Zuckerberg hopes this will allow the company to move away from being solely associated with social media.
"Today we are seen as a social media company, but in our DNA we are a company that builds technology to connect people, and the metaverse is the next frontier just like social networking was when we got started," Zuckerberg explained.
Zuckerberg said the new name was inspired by the Greek word meta, meaning 'beyond'. He explained the name symbolised that "there is always more to build".
The company announced earlier this year that a team had been formed to tackle the goal of developing the metaverse.
"Our hope is that within the next decade, the metaverse will reach a billion people, host hundreds of billions of dollars of digital commerce, and support jobs for millions of creators and developers," Zuckerberg wrote in a Founder's Letter last week.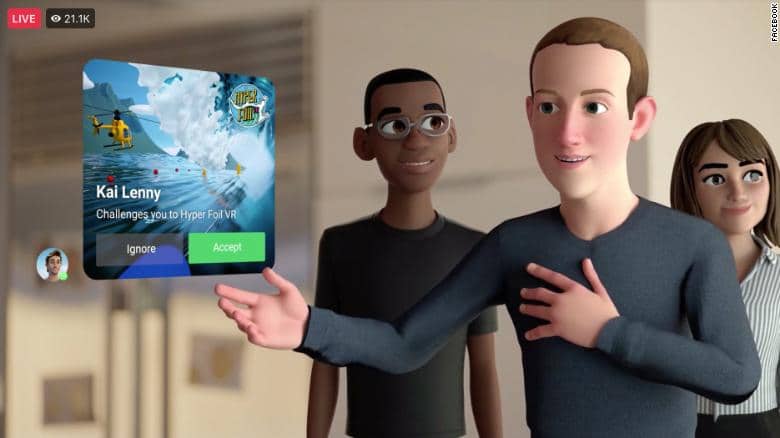 Meta also announced a new VR headset, Project Cambria. Not much is yet known about the new device, although it will be compatible with Quest devices. Project Cambria will be released sometime in 2022.
The company has faced scrutiny over the past few months, especially since former employee and whistle-blower Frances Haugen testified at a Senate Committee hearing. Haugen claimed the company prioritised profits over the wellbeing of its users.
"I know that some people will say that this isn't the time to focus on the future, and I want to acknowledge that there are important issues to work on in the present. There always will be," said Zuckerberg.
"So for many people, I'm just not sure there ever will be a good time to focus on the future. But I also know that there are a lot of you who feel the same way that I do."
"While we make mistakes, we keep learning and building and moving forward," Zuckerberg said.
Meta presented numerous concept videos at last week's event to showcase the possibilities of its vision. In future it could be possible to remotely attend concerts and play immersive games.
"Your devices won't be the focal point of your attention anymore," said Zuckerberg.
"We're starting to see a lot of these technologies coming together in the next five or 10 years. A lot of this is going to be mainstream and a lot of us will be creating and inhabiting worlds that are just as detailed and convincing as this one, on a daily basis."
Although Zuckerberg says the metaverse will not reap profits anytime soon, he advocates for it as the next frontier following mobile internet and social media.
Please support us by liking and following this page so we may continue to publish impartial news coverage.