Relations between Prime Minister Scott Morrison and French President Emmanuel Macron have ostensibly not yet recovered from tensions following a broken deal in September. The relationship between the two nations suffered a setback when the Prime Minister backed out of their established submarine deal on short notice.
Australia bailed on a $37 billion submarine contract with France in September in favour of a new deal with the United States and the United Kingdom. While the new pact could have major benefits for Australia's defence strategy, France was reportedly insulted by Mr Morrison's failure to notify them of his plans ahead of time.
The Prime Minister says he made attempts to notify Mr Macron on the evening before the announcement, however he did not pick up. As a result, Mr Morrison left a message.
President of the United States Joe Biden was also critical of Mr Morrison's management of the situation, saying it "was not done with a lot of grace".
"I was under the impression that France had been informed long before that the deal was not coming through," he said during a meeting with Mr Macron.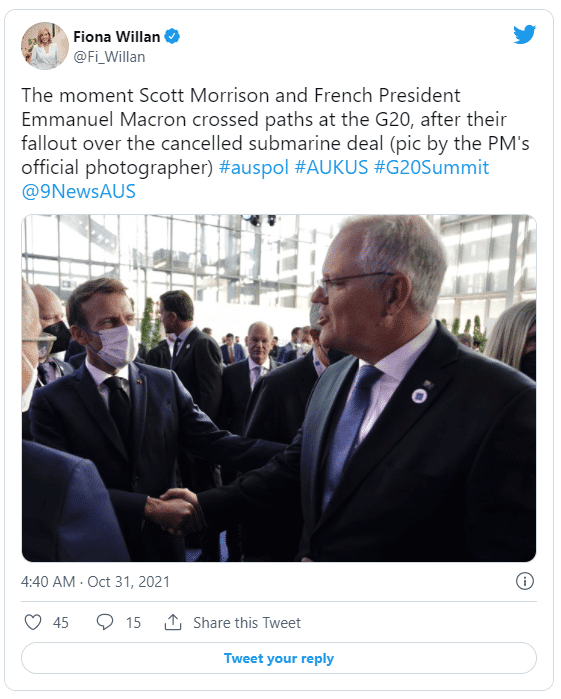 The two leaders reunited to attend the G20 summit in Rome this weekend for the first time since the relationship soured. Mr Morrison and Mr Macron were seen shaking hands in a brief exchange.
Australian journalists crowded the French President outside the G20 summit to ask if he could see himself trusting the Prime Minister again.
"We will see what he will deliver," he replied.
"I have a lot of respect for your country. I have a lot of respect and a lot of friendship for your people. I just say when we have respect, you have to be true and you have to behave in line and consistently with this value," Mr Macron said.
The President of France was also heard saying the Prime Minister's deal with the US and UK was "very bad news".
"I think this is detrimental to the reputation of your country and your Prime Minister."
Mr Morrison has rejected claims that he lied to Mr Macron regarding his plans for the deal. The Prime Minister told reporters he had raised the subject during a dinner in June, saying "conventional submarines were not going to be able to meet our strategic interests".
"Of course, it has caused disappointment and it has caused an impact on the relationship with France. But I'm not going to put that interest higher than Australia's national interest".
Mr Morrison and Mr Macron will both be present at this week's Cop26 climate summit.
Please support us by liking and following this page so we may continue to publish impartial news coverage.