The G20 summit was held over this past weekend in Rome, Italy. The two-day summit saw the leaders of the world's largest economies meet to discuss climate targets ahead of the COP26 conference in Scotland.
For the first time in two years, the "Group of 20" world leaders tackled issues ranging from global economic growth and taxation deals to the pandemic and climate.
One of the major outcomes from the summit was the backing of a historic taxation deal targeting multinational companies. The 20 nations agreed to endorse a global minimum tax of 15 percent on major multinational corporations.
The taxation deal would add hurdles to large corporations (e.g., Apple, Google, Amazon) hoping to dodge taxes by operating from low-tax locations. This deal would likely come to fruition in 2023.
Chancellor of Germany Angela Merkel called the deal a "great success" and a "clear signal of justice in times of digitalisation".
"Here at the G20, leaders representing 80% of the world's GDP—allies and competitors alike—made clear their support for a strong global minimum tax," said President of the United States Joe Biden about the deal.
"This is more than just a tax deal—it's diplomacy reshaping our global economy and delivering for our people."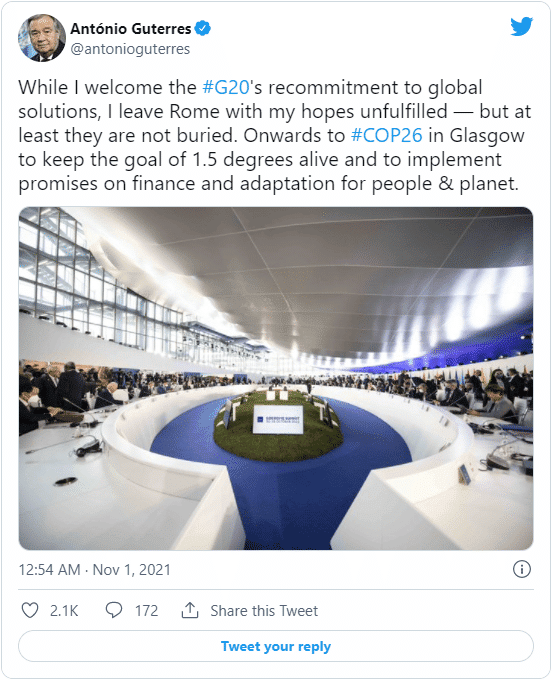 While leaders were eager to work out the finer details of the taxation deal, the limited climate talks may ring hollow for environmental activists hoping for firm commitments prior to the COP26 climate summit. The leaders mostly agreed to net zero targets by 2050, although both China and Russia stretched this goal to 2060.
The United Nations' secretary-general António Guterres said he left the summit with his "hopes unfulfilled".
President Joe Biden claimed the leaders of China and Russia—two of the largest contributors to pollution— "basically didn't show up" to climate talks, saying it was "disappointing".
United Kingdom Prime Minister Boris Johnson criticised leaders' false promises regarding the climate, saying they are "drops in a rapidly warming ocean".
"Right now, the Paris Agreement and the hope that came with it is just a piece of paper," Mr Johnson said.
In the closing statement of the summit, Italian Prime Minister Mario Draghi said all of the G20 nations were committed to reaching the much-discussed target of net zero emissions by 2050.
Net zero targets would hold nations responsible for removing as much greenhouse gas from the atmosphere as they were emitting to create a net amount of zero emissions. Scientists say countries need to reach net zero by 2050 to prevent a climate catastrophe.
Ahead of this week's COP26 conference in Glasgow, Boris Johnson worried for the future.
"If Glasgow fails, then the whole thing fails," he said.
Please support us by liking and following this page so we may continue to publish impartial news coverage.