Elon Musk has made headlines after telling the United Nations he would sell Tesla stock "right now" if they can prove $6 billion will solve world hunger. Musk targeted the UN World Food Program (WFP) after Executive Director David Beasley called on billionaires such as Musk and Amazon CEO Jeff Bezos to "step up now, on a one-time basis" to help solve world hunger.
"$6 billion to help 42 million people that are literally going to die if we don't reach them. It's not complicated," Mr Beasley explained.
$6 billion would equate to approximately 2 per cent of Musk's fortune. Musk's net worth is roughly $311 billion.
According to WFP's data, they received a record high of $8.4 billion in donations last year.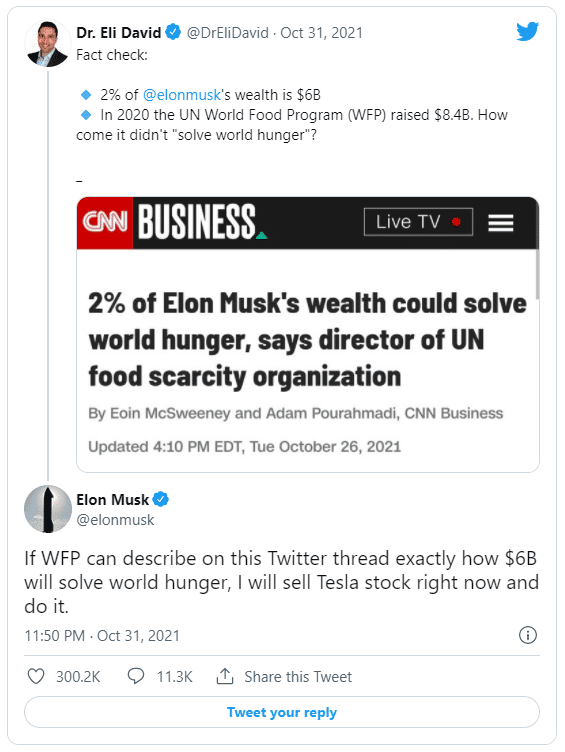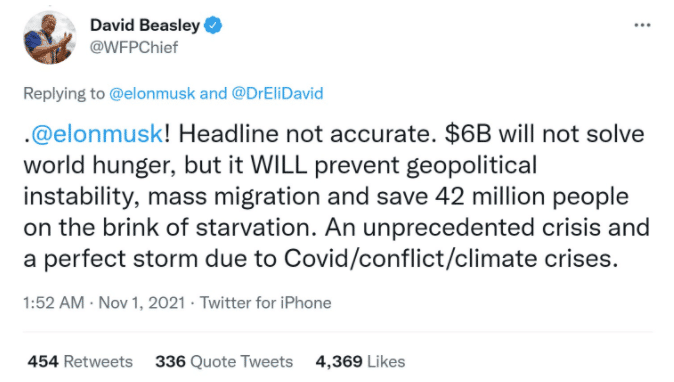 Musk took to Twitter to challenge the WFP's claims.
"If WFP can describe on this Twitter thread exactly how $6 billion will solve world hunger, I will sell Tesla stock right now and do it," Musk tweeted.
"But it must be open-source accounting, so the public sees precisely how the money is spent," he wrote.
Much of Twitter has subsequently become embroiled in debates over the extent to which billionaires should or should not be obligated to make donations.
WFP Executive Director responded by correcting those who claimed he had said $6 billion would directly solve world hunger. Instead, Mr Beasley says that money would go to feeding millions that otherwise may go without. He also said the money would "prevent geopolitical instability, mass migration and save 42 million people on the brink of starvation".
Mr Beasley offered to meet with Musk to "show" the Tesla and SpaceX CEO how his donation could benefit the organisation.
Neither party has yet confirmed whether the meeting will take place.
Please support us by liking and following this page so we may continue to publish impartial news coverage.