Oxford Languages recently released their annual report announcing that 'vax' is their Word of the Year for 2021. According to Oxford, the word was used 72 times more frequently in September this year than at the same time in 2020.
Oxford releases their Word of the Year in the last couple months of each year to highlight the growing use or popularisation of a word within the English language. Last year Oxford said the year had been so unprecedentedly strange with the pandemic that there was no single word of the year. However, they did mention words like 'coronavirus', 'lockdown', and 'social distancing' had been gaining popularisation in the English-speaking world.
The word has skyrocketed in popularity as the world grapples with the rollout of vaccines protecting against covid-19. Words like 'vax', 'double-vaxxed' and 'unvaxxed' have become integral colloquial terms used in everyday situations.
"For lexicographers, it is rare to observe a single topic impact language so dramatically, and in such a short period of time become a critical part of our everyday communication," Oxford wrote in their 2021 report.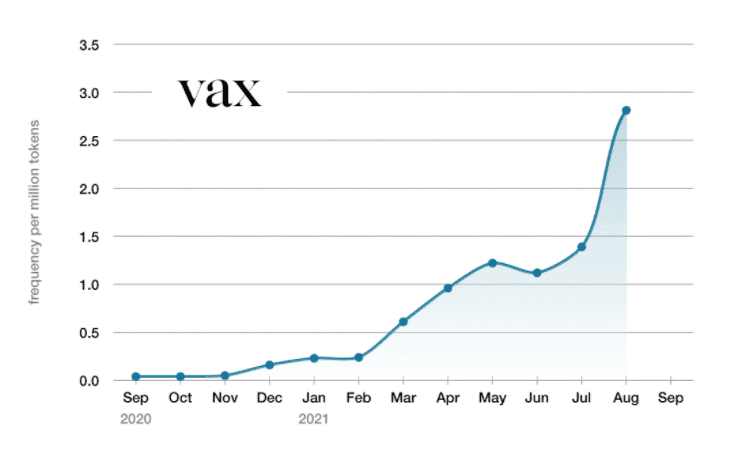 'Vaccine' is derived from the Latin adjective 'vaccinus', first used to mean 'of or derived from a cow'. The Latin form was used by ancient Romans far before the anglicised version was first recorded in 1799.
The shortform 'vax' dates back to the 1980's according to Oxford. It was predated by the first recorded use of 'anti-vax' from as early as the 1800's, a shorthand for 'anti-vaccinist'.
Words related to vaccines and vaccinations in general have risen in popularity and use, according to Oxford's data. The end of 2020 saw the word 'vaccine' most frequently followed by words like 'candidate', 'trial', 'development', and 'approval'.
Since vaccines became widely available in 2021, the noun is more frequently followed by words like 'dose', 'mandate' and 'clinic'. Terms related to opposition to vaccines have also seen a rise, such as in the case of 'vaccine hesitancy' and 'anti-vax'.
Oxford reports their 2021 Word of the Year is most common in North America, Australia, and Southeast Asia. However, they also note rising use of the word in the United Kingdom.
Please support us by liking and following this page so we may continue to publish impartial news coverage.