A petition signed by over 1,000 Activision Blizzard employees has called for the resignation of CEO Bobby Kotick over allegations he failed to act on reports of sexual misconduct within the company. The American video game company has produced a litany of popular games, including Call of Duty, Guitar Hero, and World of Warcraft.
The petition is the most recent development in a series of workplace disputes at Activision Blizzard. In July of this year, the California Department of Fair Employment and Housing filed a lawsuit against the gaming company over allegations of sexual harassment and employee discrimination. Activision Blizzard has been accused of fostering a "frat boy" culture and turning a blind eye to sexual misconduct and harassment.
"We, the undersigned, no longer have confidence in the leadership of Bobby Kotick as the CEO of Activision Blizzard. The information that has come to light about his behaviors and practices in the running of our companies runs counter to the culture and integrity we require of our leadership—and directly conflicts with the initiatives started by our peers. We ask that Bobby Kotick remove himself as CEO of Activision Blizzard, and that shareholders be allowed to select the new CEO without the input of Bobby, who we are aware owns a substantial portion of the voting rights of the shareholders," the petition read.
It was published after a Wall Street Journal story alleged that CEO Bobby Kotick knew about accusations of rape and sexual assault within the company but did not inform the board.
Mr Kotick addressed the story ahead of its publication among staff, releasing a video message to his employees.
"There will, of course, be continued media attention about us and our industry over the next few months," Kotick said.
"In fact, there's an article today that paints an inaccurate and misleading view of our company, of me personally, and my leadership.
"Anyone who doubts my conviction to be the most welcoming, inclusive workplace doesn't really appreciate how important this is to me."
What followed was a protest outside the game giant's office on Tuesday, with over 100 staff demanding Kotick's immediate resignation. ABK, the workers' alliance for the company employees also announced plans to stage a walkout.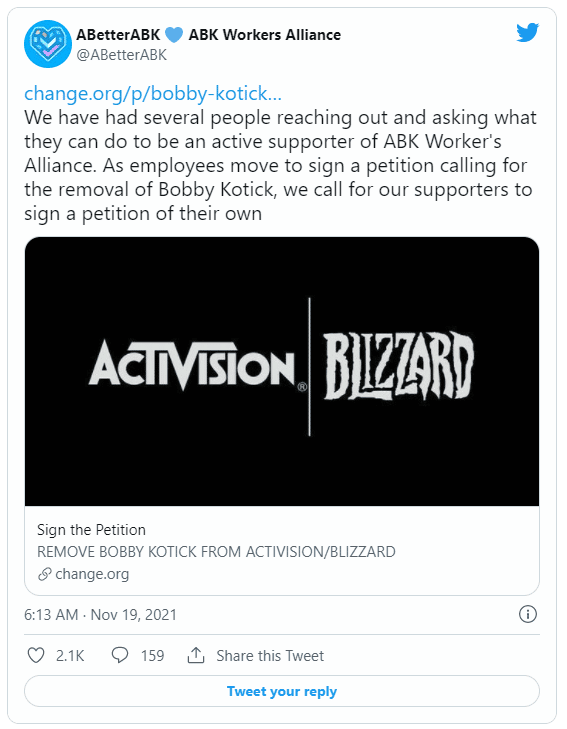 Activision released a statement, saying the company was "disappointed in the Wall Street Journal's report".
"Instances of sexual misconduct that were brought to this attention were acted upon.
"The constant desire to be better has always set this company apart.
"Which is why, at Mr Kotick's direction, we have made significant improvements, including a zero-tolerance policy for inappropriate conduct."
The company's board of directors has also said they "remain confident" in Kotick's continued leadership.
Please support us by liking and following this page so we may continue to publish impartial news coverage.