New Zealand is taking dramatic measures to meet their goal of being smoke-free by 2025. Among a series of new proposals, lawmakers are considering prohibiting the sale of tobacco products to anyone born after 2004.
Today, 11.6 per cent of New Zealanders over the age of 15 smoke cigarettes daily. This has decreased from 18 per cent in 2006/2007. Still, NZ lawmakers are putting the pedal to the metal with a suite of policy proposals to eradicate the smoking habit by 2025.
Not only are they interested in prohibiting selling or supplying smoking products to young people, but they also hope to lower the overall levels of nicotine allowed in cigarettes.
They also hope to restrict the locations where cigarettes can be purchased, from a current 8,000 stores down to 500.
Associate Health Minister Dr Ayesha Verrall announced the Smokefree 2025 action plan in Parliament today, saying the government is interested in keeping young people from ever developing the habit.
"About 4,500 New Zealanders die every year from tobacco, and we need to make accelerated progress…Business-as-usual without a tobacco control program won't get us there," said Dr Verrall.
"We want to make sure young people never start smoking so we will make it an offence to sell or supply smoke tobacco products to new cohorts of young people."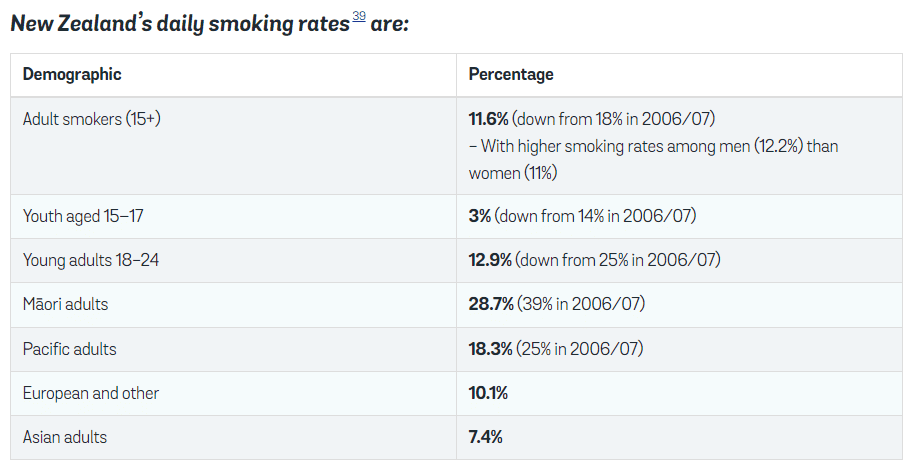 Of particular concern to the NZ government is the high rates of smoking among Maori people. While 11.6 per cent of New Zealanders smoke daily, that number rises to 28.7 per cent among Maori adults.
"While smoking rates are headed in the right direction, we need to do more, faster to reach our goal," Dr Verrall explained in Parliament.
"If nothing changes, it would be decades before Maori smoking rates fall below five per cent and this government is not prepared to leave anyone behind."
Under NZ's current modelling, it is unlikely the nation will meet their Smokefree 2025 goal. These new measures are proposed to expedite the process and ensure the goal is met.
Dr Verrall said the laws would not be immediately enacted upon being passed in Parliament, to ensure retailers were given ample time to adjust and transition.
Cancer Society Chief Executive Lucy Elwood enthusiastically welcomed the proposed changes.
"These glaring inequities are why we need to protect future generations from the harms of tobacco," Ms Elwood said.
"Tobacco is the most harmful consumer product in history and needs to be phased out."
Although many have praised the proposals, their approval has not been unanimous. ACT is a right-wing political party in NZ, led by David Seymour. In a statement, ACT said that "prohibition has never worked".
"We will end up with a black market for tobacco, with no standards or regulation, and people will be harmed," said ACT spokesperson Karen Chour.
Smoking control legislation is expected to be introduced in June 2022.