Luxury auction house Sotheby's is selling a single lot of 104 CryptoPunks which have been estimated to sell from $27-41 million AUD at the end of the month.
The collections of NFTs were originally created in 2017 by Larva Labs and offer a unique opportunity for buyers as they were acquired together with a single transaction registered on blockchain, meaning they all have the same origin. CryptoPunks are some of the most sought after NFTs as they are often recognised for being iconic and extremely valuable.
Co-Head of Digital Art at Sotheby's Michael Bouhanna said that CryptoPunks are elusive as they are regarded as the original NFTs.
"CryptoPunks are the original PFP series that created the template for other NFT projects that have followed, and which helped propel NFTs to the global stage as one of the most recognizable visual styles that have become synonymous with the digital art movement,"
"To offer a group of 104 CryptoPunks as a single lot is a monumental occasion, and one that we are excited to present as a first-of-its-kind evening auction,"
"Never before has there been a dedicated auction presenting NFTs on this level, and we can't wait to invite the NFT and crypto art community to participate in this special sale."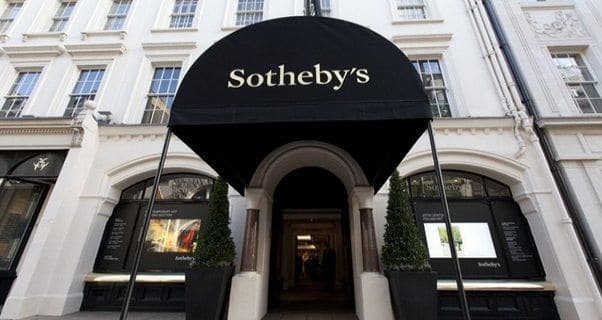 Although Sotheby's have the NFT's estimated at a historic record many people have been quick to point out that the auction house has failed to mention whether they are version one CyrptoPunks or version two. Twitter user @blocktagon_ETH said "So question @Sotheby's: are these the original version 1 CryptoPunks or the version 2 CryptoPunks? The CryptoPunks that the world has come to know are actually version 2."
Version one CryptoPunks were originally free to claim, besides a gas fee, however there was a code error in which people were able to essentially pay for the NFT in crypto and get money back immediately. Larva Labs then released a version two which fixed the issue and now V1's and V2's according to NFT now are indistinguishable from each other.
The auction winner will have the ability to pay in a cryptocurrency using Ether, Bitcoin or USD coin while dollar currencies will also be accepted. Sotheby's began to sell NFTs last year and since then has sold $100 million worth of NFTs with CryptoPunk #7523 selling for a record $11.8 million at auction in June 2021.
The auction will begin on February 23.