Russian president Vladimir Putin and his allied political circle have been described as "mirroring the fascism" of Adolf Hitler's Nazi Germany, according to UK Defence Secretary Ben Wallace.
Mr Wallace is expected to speak at the National Army Museum in London, where some strong words from his prepared speech condemning Russia's attack on Ukraine were leaked to the press.
"Through their invasion of Ukraine, Putin, his inner circle and generals are now mirroring the fascism and tyranny of 70 years ago, repeating the errors of last century's totalitarian regimes," he said.
"Their unprovoked and illegal invasion of Ukraine, attacks against innocent citizens and their homes, and the widespread atrocities – including deliberately against women and children – corrupts the memory of past sacrifices and Russia's once-proud global reputation."
Russia has been criticised by global media organisations over propaganda and government control of broadcasting, as the Kremlin have basically compared the ongoing war as being conducted under similar circumstances to WWII, and describing Ukraine as a "threat".
On May 9 every year, Russians celebrate Victory Day, a commemorative event feting the end of World War II.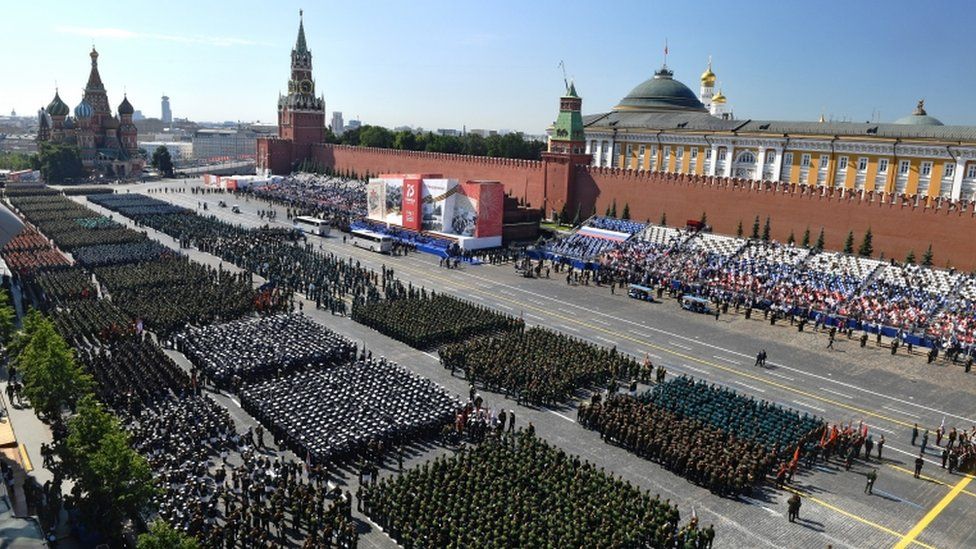 This year's parade has been reduced by 35 per cent, as forces are required in Ukraine to assist with the offensive.
The Defence Secretary believes that the presence of Russian army generals is "entirely inappropriate", as it presents yet another false equivalent between the anti-fascist socialist battle in WWII and the current attack on Ukraine, which Mr Wallace labelled "unprovoked".
"Let's call out the absurdity of Russian generals – resplendent in their manicured parade uniforms and weighed down by their many medals – for being utterly complicit in Putin's hijacking of their forebears' proud history against a ruthless invasion; of repelling fascism … of sacrificing themselves for a higher purpose," he said.
"Not only are they engaged in an illegal invasion and war crimes, but their top brass have failed their own rank and file to the extent they should be court-martialled."
Russia's military have not been able to make significant inroads into Ukraine after over two months of fighting, where they failed to capture Ukraine's capital Kyiv.
However, they are currently in the Donbas region fighting for territory.
Reuters reports that at least 46,000 people have been killed since the invasion began on February 24, with a further 13 million people displaced from their homes.