Prime Minister Scott Morrison has today acknowledged his now-infamous quip in response to criticism for taking a holiday whilst bushfires raged throughout Australia "wasn't helpful", as he continues to make a late attempt for people to reassess his character.
Mr Morrison appeared on Channel Nine's A Current Affair last night, where he was duly grilled by host Tracy Grimshaw, where the Prime Minister's recent assertion that "Australians know I can be a bit of a bulldozer" were brought up as the opening question.
When asked if he regretted saying "I don't hold a hose, mate" in early 2020 after taking a holiday during the Black Summer bushfires (for which he was almost universally criticised), Mr Morrison surprised many viewers by conceding he took the wrong approach.
"Certainly, that wasn't a comment at the time that was helpful, of course," he said.
"I could be more sensitive at times."
The Prime Minister has made a blatant attempt to rebrand his image over the last couple of weeks, making numerous statements about his reformed character and understanding his need for change if he were to be re-elected as the country's leader.
Grimshaw then took Mr Morrison to task over a recent declaration at Sunday's Liberal Party launch that he had "saved" the country, and that he was only getting started.
Here's what Prime Minister Scott Morrison had to say when Tracy Grimshaw questioned what he would have "done differently in the last three years if [he] had known that so many Australians were holding a grudge".

For more: https://t.co/G4FojbyC16 #AusVotes #9ACA pic.twitter.com/EKzP9zULJW

— A Current Affair (@ACurrentAffair9) May 18, 2022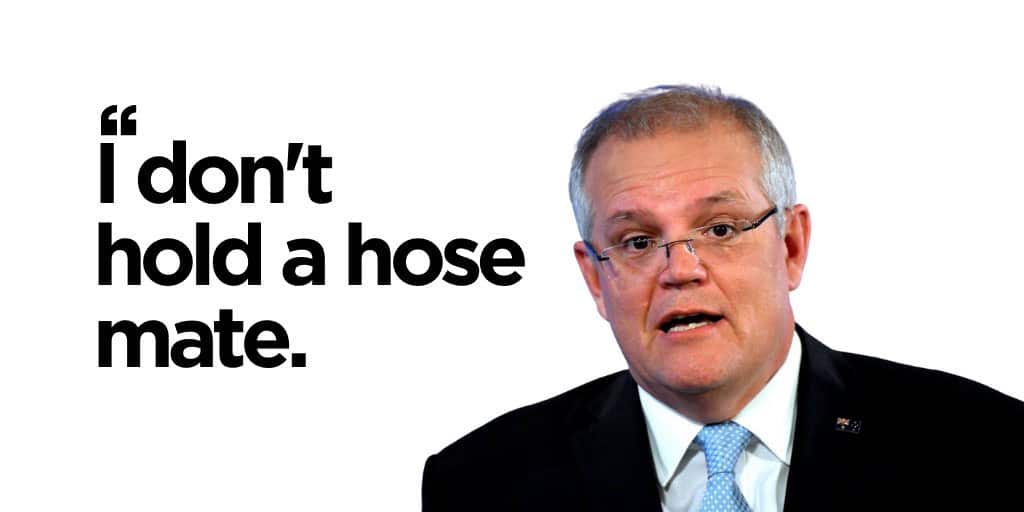 "I had one focus as your prime minister – save the country," he was quoted as saying.
"And we did.
"I'm seeking a second term because I'm just warming up."
The comments did not go over well with former Gold Logie nominee Grimshaw.
"You don't hold a hose, you weren't in your tinnie plucking people off rooftops, you weren't doing 16-hour days in PPE on COVID wards, you didn't get enough vaccines soon enough, you didn't get enough RATs so that we could finally have a holiday interstate for Christmas, and China is set up, based in the Solomons," she contended.
"Do you think maybe you slightly over-egged the part about saving the country?"
Mr Morrison responded quickly: "Well, that's quite a long list you've been able to pull together", before quoting Australia's strength throughout the pandemic as a highlight, and why the country had fared better than many others.
The interview received a mixed response in terms of who "won" the exchange, with some praising Grimshaw's tough and "fiery" line of questioning, and others impressed with Mr Morrison's response to the host's questions.
The Federal Election is on this Saturday.