Australian swimmer Kyle Chalmers has rightfully slammed sections of the media over "pathetic" reporting at the Australian Swimming Championships.
Chalmers, 23, was made out to be the "bad boy" by some media outlets over his decision to compete in the 100m butterfly at next month's World Championships in Budapest, something that sounds nondescript.
But the South Australian had previously flagged he would not compete in Hungary, meaning former singing sensation Cody Simpson (who finished third at the trials) would get a start in the event.
Sections of the media also insinuated that Chalmers was originally missing the event because his ex-girlfriend Emma McKeon is reportedly dating Simpson, an angle Chalmers described as "pathetic".
"The past few days have been really challenging for me mentally and emotionally and it's taken a massive toll on me," Chalmers wrote on Instagram.
"I need to look after my mental health and get myself right as I prepare for a massive year in the pool.
"The negative media attention surrounding my decision to compete at worlds and the made-up storylines surrounding my personal life have been more than I can handle.
"After giving my all to the sport and being so welcoming to the media all my career, it's a shame to see them publish storylines questioning my integrity all for the sake of extra clicks and money."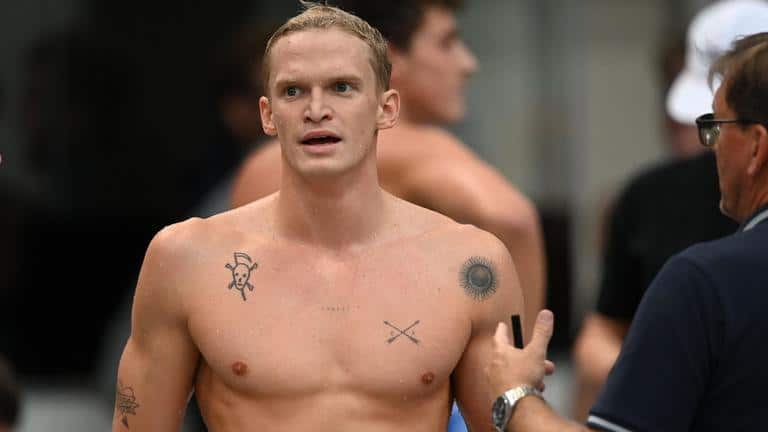 The Port Lincoln native was also unfairly criticised for changing his mind despite finishing the championships with the second-fastest qualifying time, meaning Simpson would now miss out on the championships.
Simpson confirmed that Chalmers had reached out to him to clarify any rumours.
"He was cool … we sort of cleared the air about it," he said.
"He has the spot; I didn't finish second, I finished third.
"So it's all good in that sense, I would sort of respect his decision either way."
The Olympic champion rose to prominence after a shock win in the 100m freestyle sprint event at the 2016 Rio Games and added two bronze medals to his tally at last year's Tokyo Olympics.
The then-18-year-old received an Order of Australia Medal (OAM) in 2017 for his services to sport as an Olympic gold medallist but has cited burnout and injury as factors contributing to "losing his love" for the sport last year.
Swimming Australia supported the man nicknamed "The Big Tuna" in a statement this morning.
"The last few days have been difficult for Kyle," it read.
"He believes it's in the best interest of his mental health in Port Lincoln with his family for the next few days.
"Swimming Australia fully supports his decision."