The arrival of US House of Representatives Speaker Nancy Pelosi in Taiwan has prompted an angry reaction from China.
Nancy Pelosi and her delegation landed at Songshan Airport in downtown Taipei and were greeted by Taiwan's Foreign Minister Joseph Wu and the top US representative in Taiwan, Sandra Oudkirk.
China repeatedly warned against her visit to Taiwan, which China sees as a breakaway province.
According to foreign ministry spokeswoman Hua Chunying, China had been in communication with the US about the sensitivity of the matter.
"The US side will bear the responsibility and pay the price for undermining China's sovereign security interests," she said.
Ahead of Pelosi's arrival on Tuesday, Chinese warplanes were sent up the median line that informally divides the Taiwan Strait between the Chinese mainland and Taiwan.
China's Defence Ministry said the military is on high alert and in response to the visit, will launch "targeted military operations".
The People's Liberation Army's (PLA) Eastern Theatre Command said from Tuesday night it will conduct joint military operations, including joint air and sea drills north, south-west and south-east of Taiwan.
The Eastern Theatre Command said there will also be long-range live firing in the Taiwan Strait and missile test launches in the sea east of Taiwan.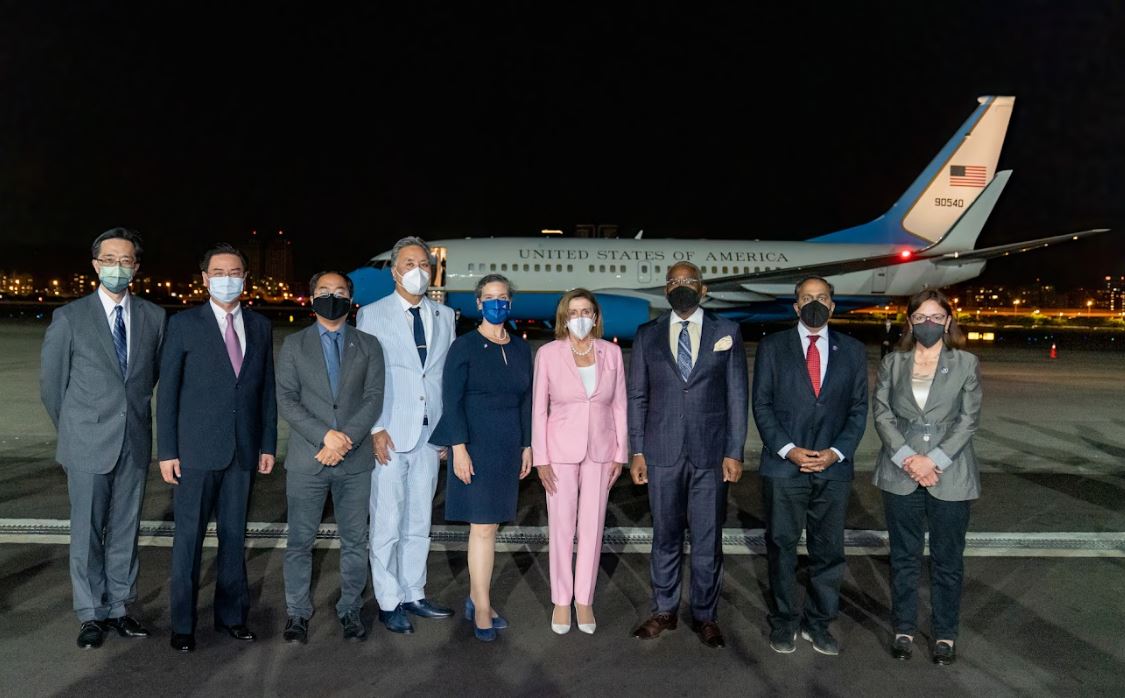 China's actions were condemned by Taiwan's Defence Ministry, saying it has a full grasp of military activities and residents were urged to stay calm.
It said it was determined to defend itself against any Chinese threat.
White House national security spokesman John Kirby said the United States will not be engaging in 'sabre-rattling" and there is no reason Pelosi's visit should precipitate a crisis or conflict.
Pelosi says the visit does not "contradict longstanding United States policy".
"Our congressional delegation's visit to Taiwan honours America's unwavering commitment to supporting Taiwan's vibrant democracy," she said.
"America's solidarity with the 23 million people of Taiwan is more important today than ever, as the world faces a choice between autocracy and democracy."
President Joe Biden said last week the US military believes her visit to Taiwan is "not a good idea right now".
Kirby said the White House respects the independence of the US Congress and Pelosi has the right to make her own decisions.
He pointed to Republican former Speaker of the House Newt Gingrich visiting Taiwan in 1997 and other US lawmakers visiting as recently as this year.
Pelosi will also be visiting other locations as part of a tour of Asia, including Singapore, Malaysia, South Korea and Japan.