At the centre of Kyiv, there is a 27-foot-tall bronze statue depicting a Russian and Ukrainian working together on a square slab, symbolising 60 years of the Soviet Union (it was erected in 1982).
No longer.
On Tuesday, Ukrainian officials authorised and participated in the dismantling of said monument, located at the "People's Friendship Arch" in response to Moscow's invasion.
Workers removed one of the two bronze heads, before utilising a crane to lift the former staple of Kyiv's town centre and lowering it to the ground.
One of the monument's designers, Serhiy Myrhorodsky, was visibly angry as he spoke about the relationship between the two countries.
"Russia invaded Ukraine … Can we be friends with Russia? What do you think? This is our worst enemy, that is why the monument to Russian-Ukrainian friendship doesn't make sense anymore," he said.
A small crowd of around 100 people celebrated by chanting "glory to Ukraine" in unison.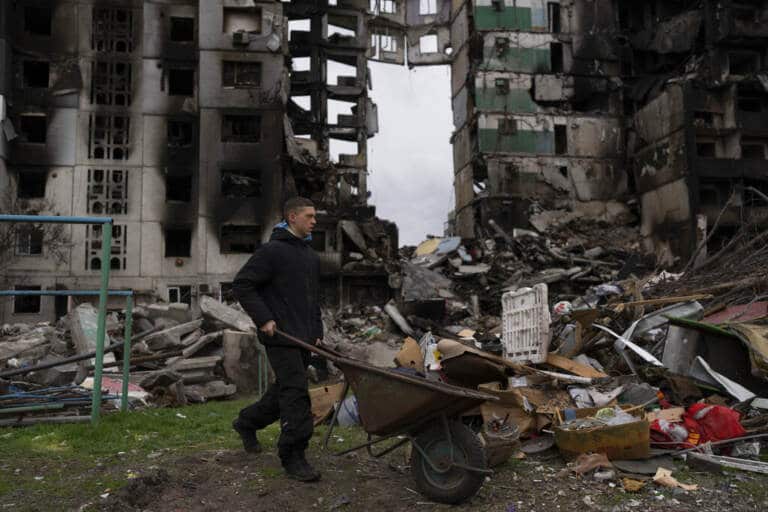 Kyiv mayor Vitaly Klitschko condemned the Russian offensive and lamented the massive loss of life that Ukraine has suffered, with Russia widely alleged to have committed war crimes by targeting innocent civilians.
"We now see what this "friendship" is – destruction of Ukrainian cities … killing tens of thousands of peaceful people," he said.
"I am convinced such a monument has an entirely different meaning now."
Streets named after links to Russia and Belarus will also be renamed, which consists of 279 streets and 60 public objects in Kyiv, according to the head of the city's state administration Volodymyr Bondarenko.
"No one intends to take books of Russian classical authors down from library shelves or forbid people to attend concerts of Rachmaninoff," he said.
"But the matter of street names and memorials needs to be brought to a close."
The arch will still stay in place but will be renamed the Arch of Freedom of the Ukrainian People, with a new monument expected to be erected later this year.