The Royal Australian Navy (RAN) has ripped up invitations to Chinese and Russian militaries to attend the Indo Pacific Sea Power Conference this week.
Naval leaders from 40 nations are meeting today at Sydney's Darling Harbour to engage in industry discussion about underwater warfare technology and oceanic protection.
Australia elected not to invite China's military due to "deteriorating relations", a public slap in the face after Australian officials made their thoughts on the security pact known.
Russia was not invited after President Vladimir Putin ordered the invasion of Ukraine.
The three-day conference will also have a strong focus on the recently inked security deal between China and Solomon Islands, which has made Australia's armed forces "anxious" and reports of unease amongst allies like the United States and the United Kingdom.
#IndoPacific2022 Conference opens in Sydney today. A big #AusNavy welcome to the naval delegations from more than 40 nations participating in the conference to discuss maritime security & issues of strategic importance for the #IndoPacific. pic.twitter.com/WXOdJ698ta

— Royal Australian Navy (@Australian_Navy) May 9, 2022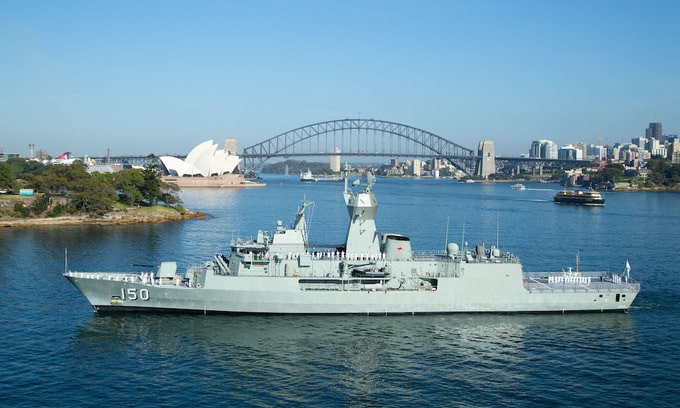 Australian Navy Chief Vice Admiral Mike Noonan recently hosted a South-West Pacific maritime meeting (consisting of 13 nations) and said that this week's conference would provide more opportunity for robust discussion in an open forum.
"Sea Power 2022 provides the opportunity for our sailors, officers and policymakers alike to discuss, in depth, the significant challenges that we face in the region and across the Indo-Pacific," he said.
"This will range from grey-zone tactics, competing and competition, through to emerging technologies … above the sea, on the sea and under the sea."
There are government and military fears that China will have an increased presence in Pacific waters, Prime Minister Scott Morrison going as far as saying a Chinese military base on Solomon Islands would be considered a "red line".
Some of the RAN's concerns that will be discussed include the $45 billion Future Frigate program and the procurement of nuclear-powered submarines under the AUKUS alliance.
Arms dealers will also be present at the conference, looking to secure high-value military contracts from the planned $270 billion Australia wants to spend on military acquirements.
You can read more about the Indo Pacific Sea Power Conference here.