It's the gift that keep on giving with archaeologists uncovering more ancient Egyptian mummies and artefacts in the Saqqara Necropolis.
250 sarcophagi containing "well preserved mummies" and 150 bronze statues of Egyptian gods were discovered when archaeologists excavated an area of Saqqara. They've dated the find to around 500 BCE, also known as the "Late Period" which was 2500 years ago.
Deities that were represented in the statues included Osiris, Anubis, Isis, Hathor as well as Nefertem, Basted and Amun. Among the treasure was a sistrum, an ancient Egyptian percussion instrument that was generally used during religious ceremonies and in the presence of a deity according to the Met Museum.
Perhaps the most illustrious discovery for archaeologists was that of a well-preserved papyrus. They believe it contains versus from the "Book of the Dead" and is up to 9 metres long, with the ancient paper on its way to the Egyptian Museum for examination.
Secretary-general of Egypt's Supreme Council of Antiquities Mostafa Waziri spoke to CBS News, detailing that experts discovered something new within the excavation.
"Today's discovery confirms that the temple wasn't exclusively for cats, but for other Egyptian deities too."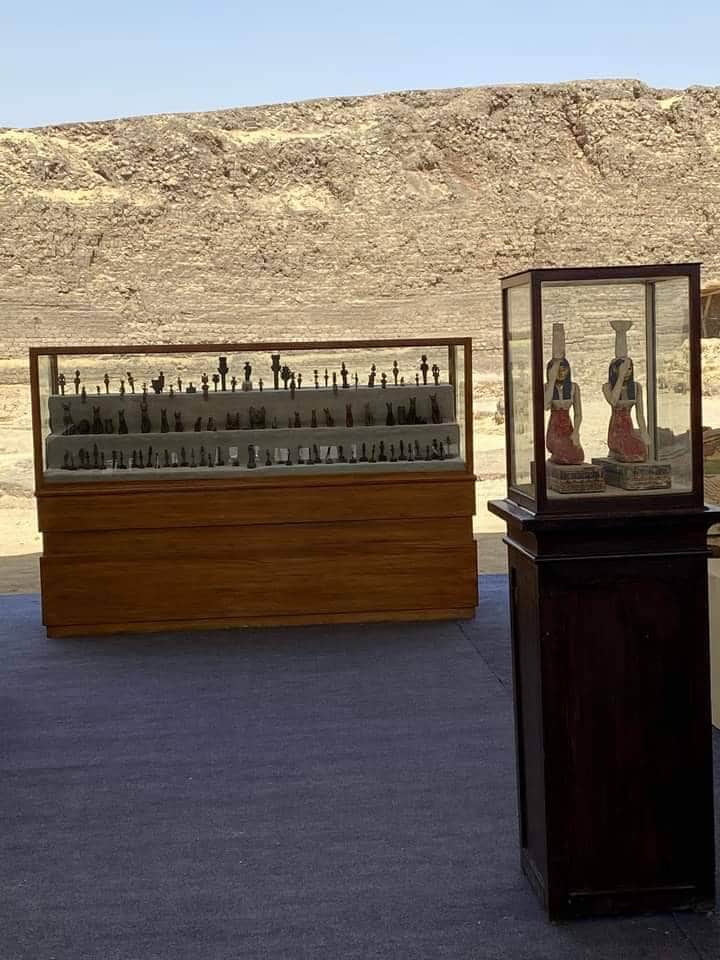 It was found in an area of Saqqara known as the "Cemetery of Ancient Animals". A place where multiple mummies of animals were discovered in 2019.
They believe the area, previously known as "Bubasteion", was a worship place for the Egyptian goddess Bastet, who took on the form of the cat.
"We found two beautiful wooden statues with golden faces of the deities Isis and Neftis, named the protectors of the coffin," he said of some artefacts found in the chamber," said Waziri.
"They were in a seated position [by one coffin], one of them by the head of the coffin and the other by the feet, in a position called 'the mourners' or 'weepers' for the deceased."
The Saqqara archaeological site has been a treasure trove for Egyptologists who have so far uncovered multiple burials chambers, mummies, and hundreds of artefacts. Excavations first began in 2018 with this latest find also revealing wooden boxes and cosmetic containers that contained Kohl.
According to the Ministry of Tourism and Antiquities, the treasures will go on display at The Grand Egyptian Museum.