In less than 90 days, NASA will ambitiously attempt to smash a spacecraft into an asteroid to re-route it.
The plan is called the Double Asteroid Redirection Test (DART) and will involve a 500kg spacecraft crashing into binary asteroid 65803 Didymos and its moonlet Dimorphos, nicknamed "Didymoon".
The bad news is scientists won't know the outcome of the test until another spacecraft makes the space journey to see the outcome.
The mission is the world's first full-scale planetary defensive test against potential asteroids impacting Earth.
Don't worry, this one is not heading Earth's way and currently there is no known asteroid that poses an immediate threat to us.
This is being used as a test to change the trajectory and learn what could be a very important skill for protecting the planet.
In the future if a large asteroid was found to be on a collision course with Earth, it might have to be deflected to stop devastating consequences.
DART launched in November 2021 and is expected to arrive at its target in September. It's hoped the impact will change Didymoon's orbital velocity by 0.4 mm/s, that will then slightly change the trajectory of Didymos.
However, DART may be stronger than originally planned, a new paper in The Planetary Science Journal claims the impact may create more than a crater and leave the asteroid unrecognisable.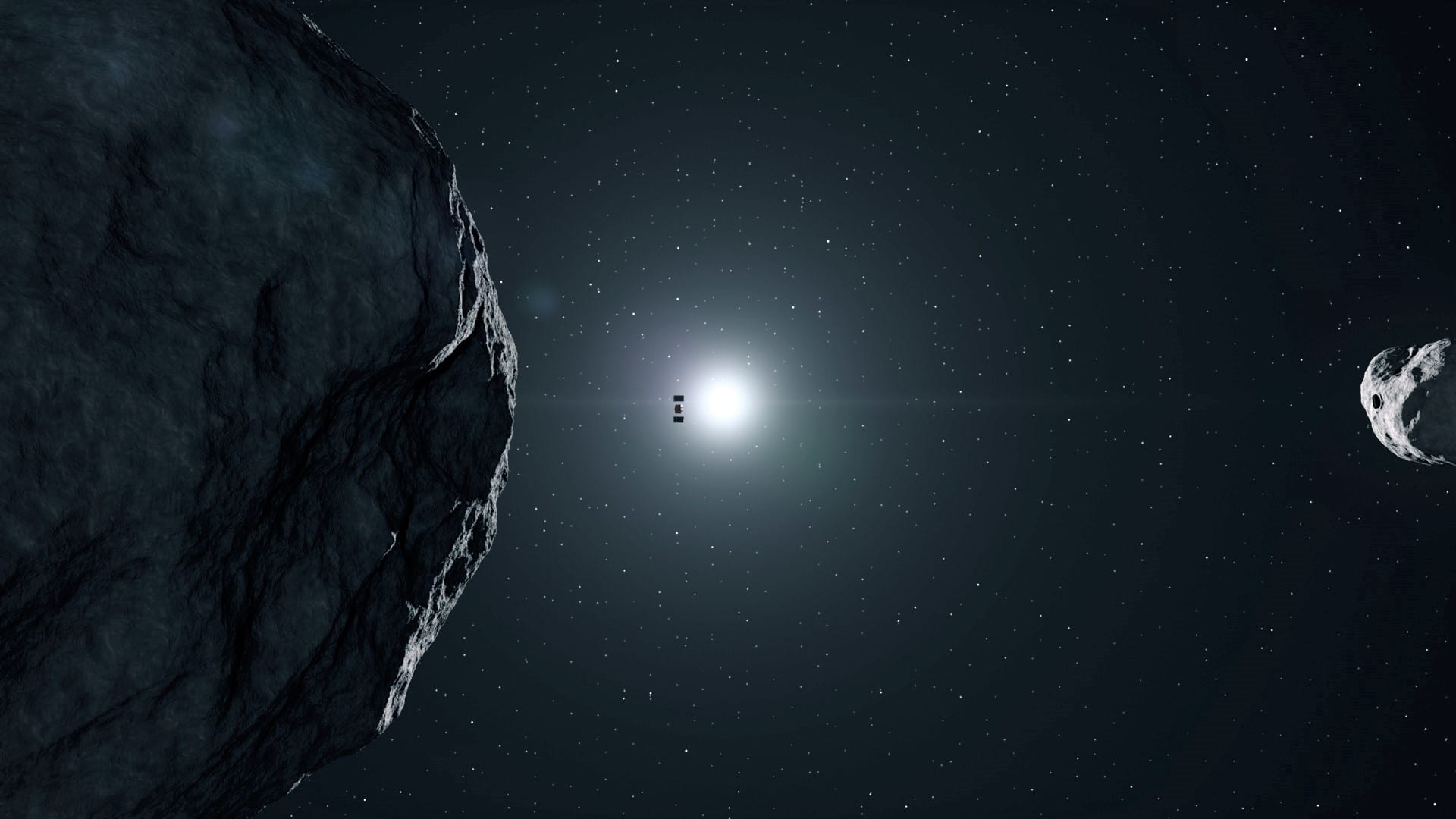 Sabina Raducan, the study's lead-author from the Institute of Physics and the National Centre of Competence in Research PlanetS at the University of Bern, spoke about the loose internal structure asteroids can have.
"Contrary to what one might imagine when picturing an asteroid, direct evidence from space missions like the Japanese space agency's (JAXA) Hayabusa2 probe demonstrate that asteroid can have a very loose internal structure — similar to a pile of rubble — that is held together by gravitational interactions and small cohesive forces," she said.
The previous mission simulations mostly assumed a more solid interior for the asteroid target.
Unfortunately, no one will know the outcome until a European Space Agency spacecraft called HERA arrives at the scene. That mission will launch in October 2023 and reach DIdymos in 2026.
Then the damage will be assessed and it will be observed whether the trajectory of the asteroid was adjusted as intended.
"To get the most out of the HERA mission, we need to have a good understanding of potential outcomes of the DART impact," says study co-author Martin Jutzi.
"Our work on the impact simulations adds an important potential scenario that requires us to widen our expectations in this regard. This is not only relevant in the context of planetary defense, but also adds an important piece to the puzzle of our understanding of asteroids in general."