Spotify has changed how users will view and interact with albums on its audio streaming service in response to a campaign by a number of artists, including Adele.
It has only been a few days since English singer-songwriter Adele released her newest album, 30. The album has received widespread critical attention and acclaim, with eight songs from her 12-track album included in Spotify's current top 20 most-played songs. Now, the musician is one of the biggest names to push Spotify to make a change to its platform.
Until now, Spotify has allowed users to click 'shuffle' at the top of any given album. This allowed users to easily listen to the tracks in a random order.
However, Adele (among other artists) says this is simply not the way she prefers her music to be heard. For many musicians, the order in which tracks are arranged on an album has a major impact on the listening experience. The placement of these songs is intentional and meant to effectively convey how the artist hoped to communicate their music. Thus, encouraging users to 'shuffle' through the songs at random is seen as overriding this creative process.
Spotify has now announced the introduction of 'play' as the default for albums. The 'play' button will start the album from its first song and play it through to its very last, thus ensuring the songs are heard and ordered as intended.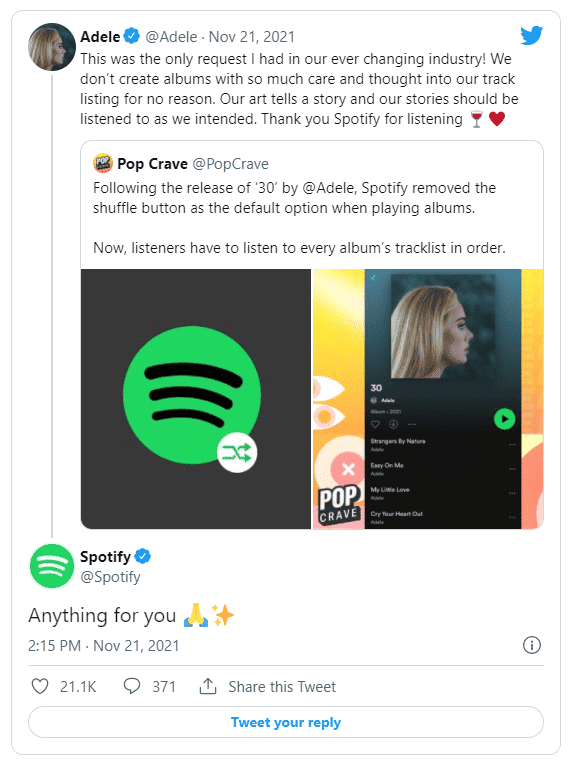 Adele announced her backing for the changes via Twitter.
"Our art tells a story and our stories should be listened to as we intended. Thank you Spotify for listening."
"As Adele mentioned, we are excited to share that we have begun rolling out a new Premium feature that has been long requested by both users and artists to make play the default button on all albums," said a spokesperson for Spotify.
"For those users still wishing to shuffle an album, they can go to the Now Playing View and select the shuffle toggle.
"As always, we will continue to iterate our products and features to create the best experiences for both artists and their fans," the statement said.
Please support us by liking and following this page so we may continue to publish impartial news coverage.