WikiLeaks founder Julian Assange has married his long-time partner Stella Morris in a ceremony at the high-security Belmarsh Prison in London.
It's been reported that the ceremony was attended by four guests, two official witnesses and two prison guards after the couple were granted permission to marry last year. Pictured outside the prison, Ms Morris could be seen wearing a grey satin wedding dress that was designed by Dame Vivienne Westwood, a fierce advocate for Mr Assange while the fashion designer reportedly created a kilt for the groom in honour of his Scottish heritage.
In attendance was Mr Assange's brother and father as well as his two children with Ms Morris, who only came to be known in 2020 when it was revealed that the couple had two young sons, Gabriel, five and Max, three. After the ceremony she greeted people and said that she was both "very happy and very sad" while commenting that she loves Julian "with all my heart" and wishes he was there to join in the celebrations.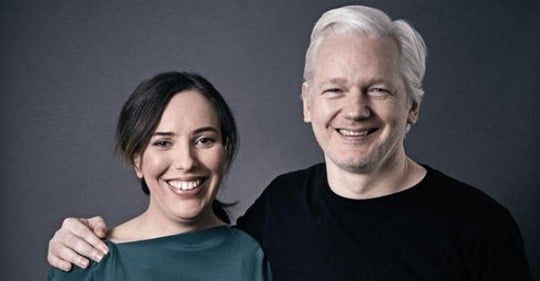 Earlier this month Mr Assange was denied an appeal by the UK Supreme Court to have his extradition order to the US revoked. If deported to the US he faces up to 17 espionage charges that total a 175-year prison sentence with lawyers for Mr Assange arguing that the conditions and treatment within the US prison would severely impact his health.
US officials put forward a list of insurances that Mr Assange would be provided healthcare and not held in a maximum-security facility. He is wanted in relation to several classified documents he released in 2010 which detailed war crimes by the US in the Middle East.
Although his UK Supreme Court appeal failed his case is now going back to the District Court where Judge Vanessa Baraitser will make a ruling on the request, however the final decision will be left to UK Home Secretary Priti Patel.