The last Friday of October each year marks the Day for Daniel. On this day, people across Australia wear red to honour Daniel Morcombe and the Morcombe family to raise awareness of child safety and protection. This year's theme is 'Wear Red, Educate, Donate'.
Daniel Morcombe was 13 years old living on the Sunshine Coast when he went missing in 2003. He was waiting for a bus when he was abducted. Nine years later, Daniel's abductor and murderer was finally arrested and charged.
In the wake of the tragedy, Daniel's parents Bruce and Denise founded the Daniel Morcombe Foundation. The Foundation provides a wealth of educational resources targeting raising awareness of children's safety and protection.
The Morcombes received the 2020 Queensland Greats Award last year in honour of 15 years of their dedication and commitment to the community. This year will be the 16th annual Day for Daniel.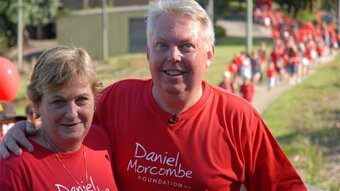 According to Day for Daniel post-event research shared on the Daniel Morcombe Foundation's website, 6 per cent of respondents have indicated they received a disclosure from a child. That means roughly 300 children have opened up and given a disclosure across the country.
"Day for Daniel is a day where Australia reflects upon the other youngsters who have suffered abuse by the hands of others, acknowledge we can do better and quite frankly, in these challenging times we have to," said Mr Morcombe about last year's event.
While the Daniel Morcombe Foundation provides free access to all of their resources, donations are accepted.
"Everything at the Foundation is free, but there are still a lot of costs. Donations, which are greatly appreciated for sure, enable us to continue our programs," Mr Morcombe told Reading Radio.
To learn more about the Daniel Morcombe Foundation and to make contributions, visit https://danielmorcombe.com.au/.