Growing tensions within the joint civilian-military government of Sudan erupted on Monday when the nation's military seized control. Prime Minister Abdalla Hamdok and his wife were detained and numerous other government officials have been arrested.
General Abdel Fattah al-Burhan made a public announcement on Monday, stating the power-sharing government had been dissolved and Sudan had been declared to be in a state of emergency.
Sudan has been in a state of governmental flux since 2019 when a coup ousted President Omar al-Bashir after over 30 years in power. Following the coup, Sudan's military joined forces with civilian groups to form a Sovereign Council that would share power for the transitionary period. The two groups agreed that the military would govern for the first 21 months following the coup, with a civilian government pegged to take over afterwards.
Burhan claimed in a televised statement this week that the transition of power had since soured and the agreement "threaten[ed] peace and unity" across the nation.
Thousands of protesters have since taken to the streets of the nation's capital, Khartoum, to oppose the takeover. Protesters are calling for the 2019 transition deal to be reinstated and for an elected government to be established.
"We are walking holding worry in our hearts and worry sleeps in people's chests," some protesters chanted.
International flights have been suspended and Khartoum's airport has been closed. Across the nation, doctors are refusing to work in military-run hospitals.
Soldiers have fired at protesters who crowded around the Sudanese army headquarters. At least seven protesters have been killed and more than 140 have been injured.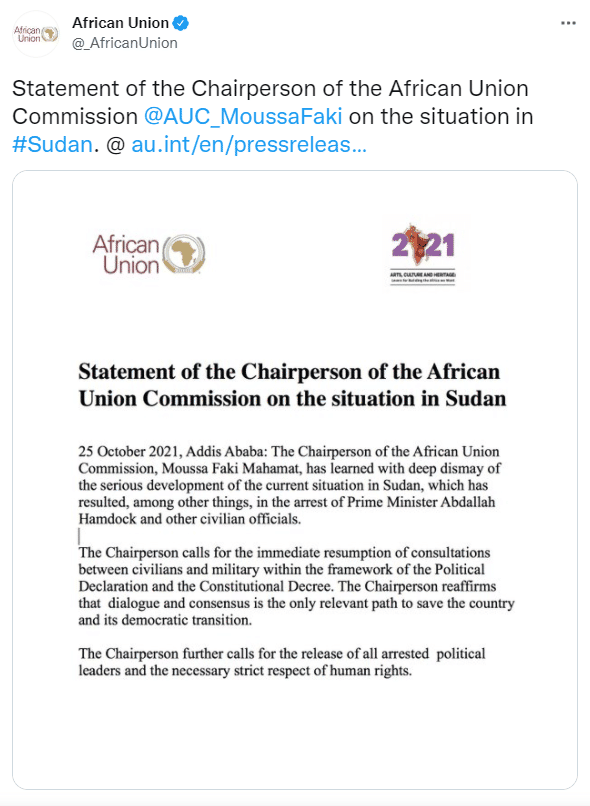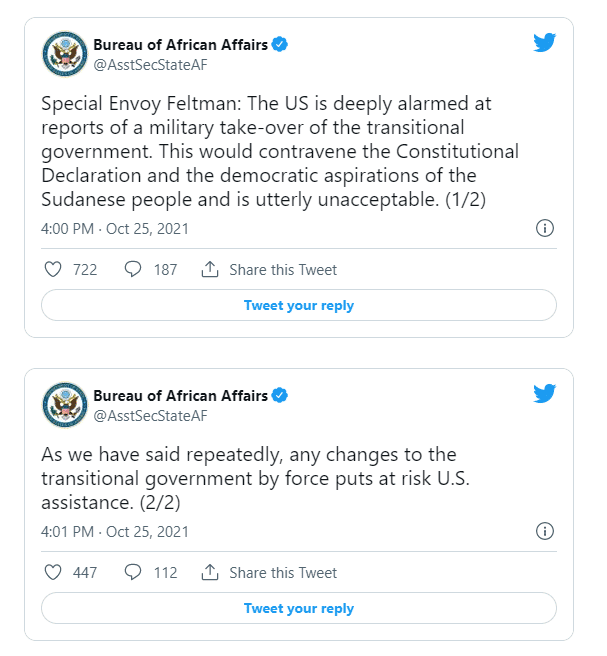 Nations and organisations around the world have condemned the takeover.
"The US is deeply alarmed at reports of a military take-over of the transitional government," said United States Special Envoy for the Horn of Africa Jeffrey Feltman.
"This would contravene the Constitutional Declaration and the democratic aspirations of the Sudanese people and is utterly unacceptable."
United Nations special representative to Sudan Volker Perthes has also condemned detention of civilian leaders and "urged all parties to exercise utmost restraint".
"The people of Sudan are back in the street, to protect their democratic transition. Will the world stand shoulder to shoulder with them?" tweeted Amnesty International Secretary General Agnes Callamard.
Protests are continuing across Sudan.