A leaked text message between Prime Minister Scott Morrison and French President Emmanuel Macron has incensed already rising tensions between the two nations this week. Australia and France have experienced a relationship breakdown since September after the Prime Minister backed out of their submarine deal on short notice.
On Tuesday the Australian media got its hands on a text from Macron that would have enormous consequences. Only two days before the Prime Minister exited a submarine deal with France in favour of an AUKUS security pact, Morrison tried to set up a call with the President.
Macron missed the call but sent a text in response.
"Should I expect good or bad news for our joint submarine ambitions?" Macron texted. French officials previously claimed they had no prior knowledge that Morrison planned to exit the deal.
The Prime Minister backed out of the $90 billion submarine deal with France to pursue the AUKUS security pact with the United States and the United Kingdom. US President Joe Biden said Morrison's handling of the deal was "clumsy".
Although it is not yet known who leaked the text or why, the debacle has caused trouble as both world leaders attend this week's COP26 climate summit.
"Confidence has been completely shattered," said a close advisor to Macron following the leak.
"Disclosing a text message exchange between heads of state or government is a pretty crude and unconventional tactic."
The Prime Minister has rejected accusations of dishonesty regarding his plans for the deal.
"I made very clear what the timeline was, and why I believed we had made very clear that there were very significant issues about moving forward with the contract," said Morrison.
"It's important now that we all just move on, frankly," he said.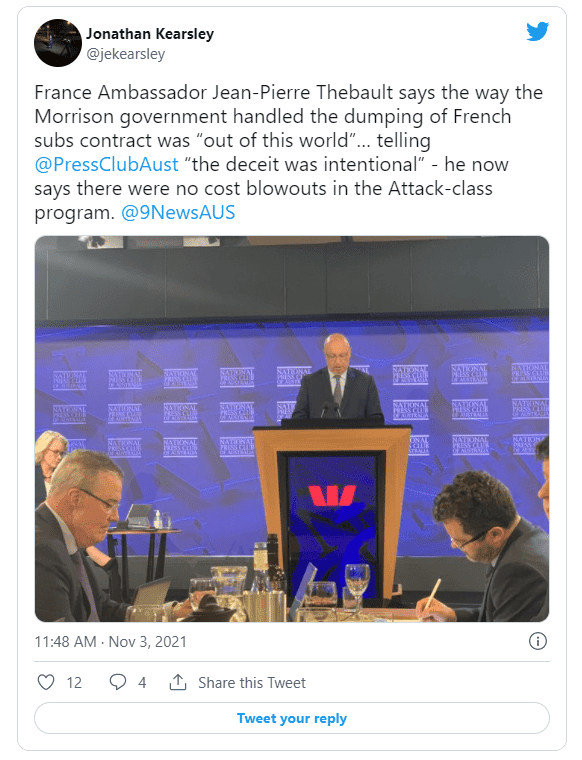 Ambassador of France to Australia Jean-Pierre Thebault made an appearance at the National Press Club on Wednesday, saying France had assessed that Australia's "deceit was intentional". The President's representatives have suggested the recent actions of Australia put the nation's trustworthiness into question.
"Because there was far more at stake than providing submarines, because it was a common agreement on sovereignty, sealed with the transmission of highly classified data, the way it was handled was a stab in the back," Thebault said.
"The Australian government is abandoning a solid cooperation with well-established parameters for a yet unspecified project, without even a solid transition."
"It is vandalism, the way in which this is being dealt with by the government, is with a wanton disregard for our international reputation," said Shadow Foreign Affairs Minister Penny Wong.
"The job of the leader of the country is not to behave this way, by being prepared to trash the country's reputation for being a straight shooter.
"It's to deal with the inevitable negative response of the French in a mature and responsible way," said Wong.
The Prime Minister and President will remain in Glasgow until the end of COP26 on 12 November.
Please support us by liking and following this page so we may continue to publish impartial news coverage.