Microsoft is entering the metaverse following an announcement at the company's Ignite conference this week. It was announced that the mixed reality platform Mesh would be integrated into Teams in 2022. The change is set to enhance the remote collaboration experience.
The announcement comes after Meta (formerly known as Facebook Inc) revealed they would be shifting their focus to developing the metaverse.
The metaverse refers to the convergence of online and offline world, often through virtual or augmented reality. With Microsoft's most recent announcement, the two companies may be following a similar path.
Microsoft initially introduced Mesh at a conference in May, describing it as a mixed-reality collaboration platform. Mesh was originally used as a means of conducting a video call using a 3D avatar look-alike in place of live video.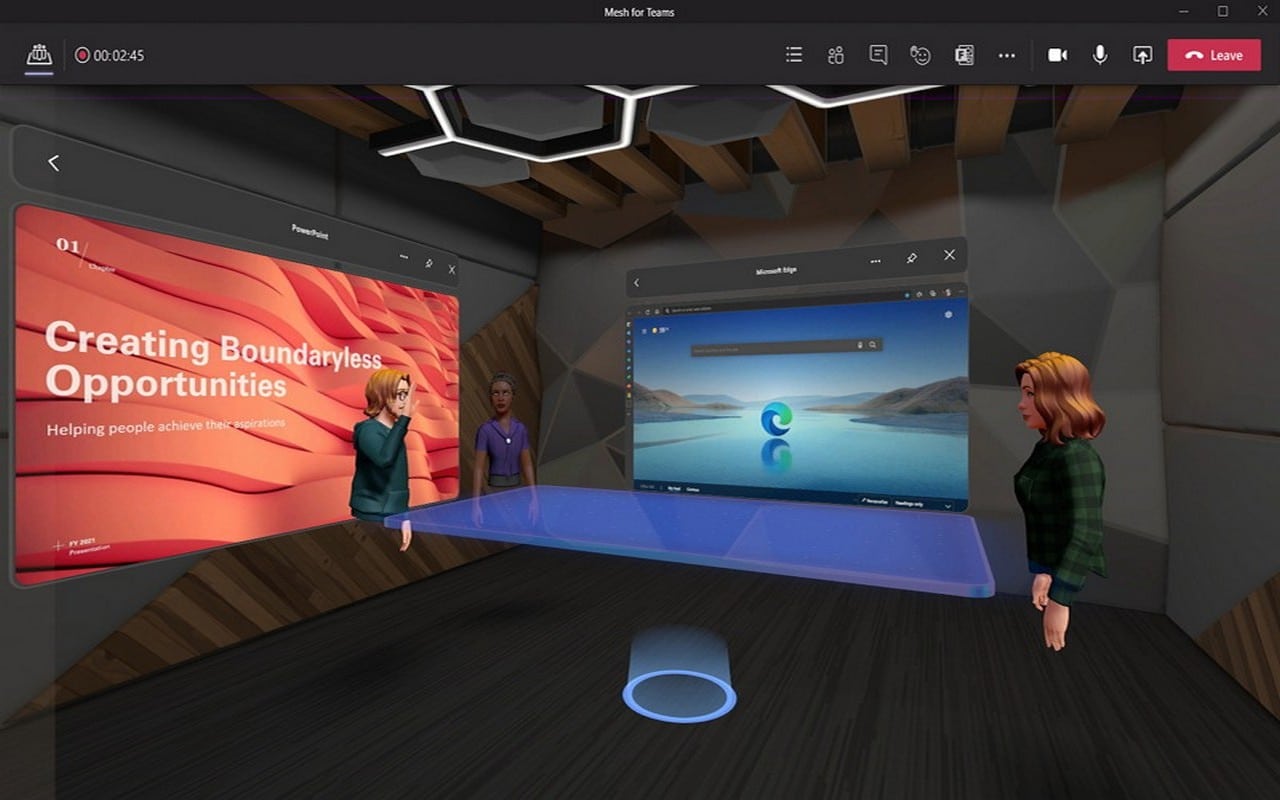 Next year Microsoft will introduce Mesh for Teams so coworkers may meet via a shared virtual space represented by their customised avatars. Users will be able to communicate with each other using voice chat without having to appear in person. The idea is that this feature will provide users with a virtual means of feeling present and connected with colleagues.
"Being in that space together reinforces that sense of 'Hey, we're driving and driving towards a goal' in a way that a meeting within the Brady Bunch grid without any of the recurring artifacts doesn't," explained Microsoft's Jeff Teper.
"The immersive space reminds us of the iterative purpose of our team. I think that's how we can use this technology to break through."
Once the changes are processed, Mesh for Teams will come with several pre-set virtual spaces where coworkers can meet, such as a conference room or lobby. Eventually, Microsoft says companies will have the ability to design and customise their own spaces and rooms.
Mesh for Teams will also allow users to create a customised 3D avatar version of themselves that they can take from meeting to meeting. Microsoft hopes to develop these avatars to a point where, eventually, they can detect and replicate gestures and facial expressions.
"To start, we will take audio cues so as you talk your face will animate," said one of Microsoft's principal project managers, Katie Kelly.
"You'll also have animations that bring additional expressivity to the avatars. Your hands will move. There will be a feeling of presence even though it's as simple as being able to take your audio and manifest that as facial expressions. That's the first release. The ambition is to closely follow that with Microsoft's plethora of AI technologies so that we can use the camera to insinuate where your mouth is and mimic your head and facial movements."
The introduction and development of Mesh for Teams may be a good indication of how the metaverse will be embraced in the future.
Please support us by liking and following this page so we may continue to publish impartial news coverage.