The Australian Government has committed to sending six M777 howitzer guns and ammunition to aid Ukraine in their ongoing conflict with Russia.
The US has already sent 90 of the 4100kg and 10.7m long weapons, and Australia will now provide some heavy artillery support with the 155mm calibre guns, which have a range of 30km.
The Australian Defence Force (ADF) website lists the M777 as "being capable of providing direct support to combat troops through offensive and defensive fires with conventional and precision-guided projectiles".
Following public pleas from the US and the Ukrainian Ambassador to Australia Vasyl Myroshnychenko, Prime Minister Scott Morrison responded this morning in a joint statement with Minister for Defence Peter Dutton.
"This additional military assistance will further support Ukraine in its response to Russia's brutal, unrelenting and illegal invasion," it read.
"The $26.7 million in new support for Ukraine takes Australia's total contribution to Defensive Military Assistance to Ukraine to over $225 million."
The M777 is towed behind a military vehicle, and predominantly used by defence forces in Australia, the US, Canada and Ukraine.
Current numbers are unclear on Ukraine's arsenal of heavy artillery, but the pleas for support would indicate that numerous howitzers have been destroyed or rendered inaccessible after the occupation of Ukrainian cities by Russian forces.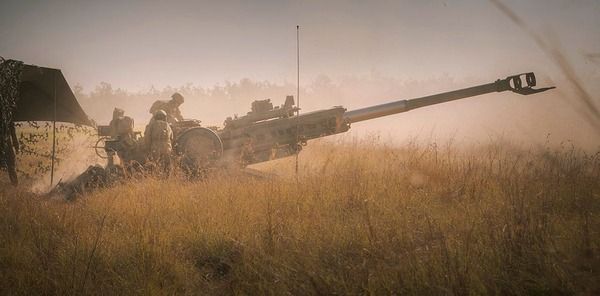 Australia is also providing $65 million in humanitarian assistance.
"Australia stands with the people of Ukraine, and again calls on Russia to cease its unprovoked, unjust and illegal invasion of Ukraine," Mr Morrison said in the statement.
"The Government will not disclose delivery arrangements at the direct request of Ukrainian officials and other partners."
Mr Morrison has come under fire recently over foreign policy matters, including Solomon Islands' security deal with China, with the Opposition criticising Mr Morrison for showing an apparent lack of respect by not attending a "crisis" meeting with the Islands last week in person.
His announcement this morning was met with disapproval from some commentators, with some saying the guns should have been sent weeks ago, and that the Prime Minister was politicising the issue for the upcoming Federal Election.
Let us know; is this the right course of action?