Several Democratic members of Congress were arrested during a protest in front of the supreme court in support of abortion rights.
Alexandria Ocasio-Cortez, Ilhan Omar, Rashida Tlaib and Cori Bush were among those at the protest.
"I introduced legislation yesterday and today to protect reproductive freedom," Cori Bush posted on Twitter.
"Today my colleagues and I put our bodies on the line – because we will leave no stone unturned in our fight for justice. Bans off our bodies."
The protest took place in front of the court building which is surrounded by a black fence erected to keep protesters away.
The security fence was installed soon after the wave of backlash came against the supreme court in May when a draft of the decision to overturn Roe v Wade was leaked.
The group of protesters were chanting "our bodies, our choice" and "we won't go back", sitting in the middle of the street as an act of peaceful civil disobedience prior to being arrested.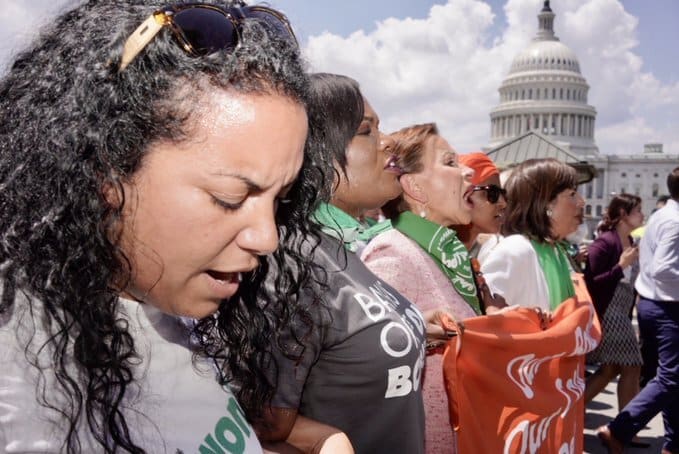 The US Capitol Police said there was a total of 34 arrests made, including 17 members of Congress.
Carolyn Maloney, a Democrat from New York who was among those arrested, said in a statement: "There is no democracy if women do not have control over their own bodies and decisions about their own health, including reproductive care.
"I have the privilege of representing a state where reproductive rights are respected and protected – the least I can do is put my body on the line for the 33 million women at risk of losing their rights."
Abortion is now banned or under threat of being banned in over half of the states.
"Our rights, our freedoms, and our reproductive autonomy matters," said Analilia Mejia, the co-executive director of the Center for Popular Democracy Action.
"Abortion is healthcare and a human right – and you don't represent the vast majority of Americans who believe we, not the government, should dictate our own health decisions."