After previously agreeing to elevate their relationship, the inaugural India-Australia 2+2 Ministerial Dialogue held in September was a promising start for the two nations. Following a meeting between Prime Ministers Narendra Modi (India) and Scott Morrison (Australia), both countries committed to enhanced collaboration across a broad range of areas. This came to fruition in September this year during the first Ministerial Dialogue held in New Delhi.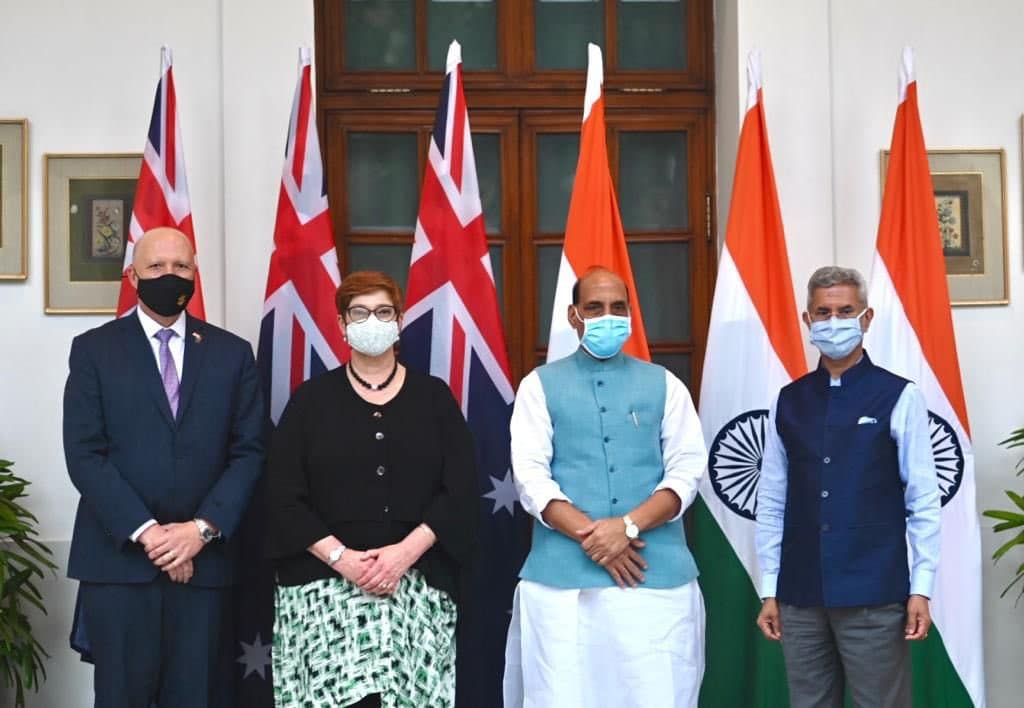 Context
The Ministerial Dialogue had been anticipated for over a year. During the Leaders' Virtual Summit in June 2020, Prime Minister Modi and Prime Minister Morrison committed to elevating the relationship between their respective nations to a Comprehensive Strategic Partnership.
The objective of the partnership was to advance their shared vision for the Indo-Pacific region and strengthen already-established ties among the nations within the Quadrilateral Security Dialogue. It was agreed that the two countries would meet at least once every two years within the format established by the inaugural dialogue to maintain momentum.
The Dialogue
From September 10th to September 12th, Minister of Foreign Affairs Marisa Payne and Defense Minister Peter Dutton travelled to India to meet with their counterparts, Minister of Defense Shri Rajnath Singh and Minister of External Affairs Dr. S. Jaishankar. This inaugural meeting would set the tone and format for future Ministerial Dialogues and establish their shared interests and agenda.
In a media release, Minister Payne asserted the two nations' CSP was established "based on a mutual trust and understanding, common interests and shared values of democracy and rule of law."
The Ministers also stressed "the importance of advancing their shared objective of an open, free, prosperous and rules-based Indo-Pacific Region."
During the meeting, the Ministers reiterated commitment to global economic recovery following the pandemic. They shared a vision to improve supply chain resilience by strengthening and diversifying supply chains in health and technology, among other industries.
Minister Payne emphasised the importance of collaboration between India and Australia at an event at the Observer Research Foundation prior to the Dialogue.
"In the context of strategic competition in our region, it's timely that we reflect on both complementarity and the common outlook that forms the basis of our cooperation in the Indo-Pacific."
September marked the first of what is likely to be many dialogues between ministers representing India and Australia. The next meeting is scheduled for 2023.