Prime Minister Scott Morrison's wife Jenny has commented on the controversy over the meeting with Grace Tame by saying the interaction was 'disappointing'.
Jenny and Scott Morrison were interviewed on 60 minutes where they discussed a variety of topics, including the meeting with Australian of the Year and sexual assault victim and advocate Grace Tame. The encounter between the Morrisons' and Ms Tame was tense and visibly uncomfortable with the Australian of the Year refusing to smile at a morning tea at The Lodge earlier this month.
Mrs Morrison commented that the encounter was not what she expected.
"I found it a little disappointing," Mrs Morrison said.
"Because we were welcoming her into our home,"
"I respect people that want to change things and stand up for their beliefs and are strong, but I still think there are manners and respect."
Mrs Morrison went on to say that she wants her daughters to be able to stand up for themselves but to still show respect.
"I want my daughters to grow up, fierce, strong, independent amazing people and I think they can still do that and show kindness to other people and be polite and have manners."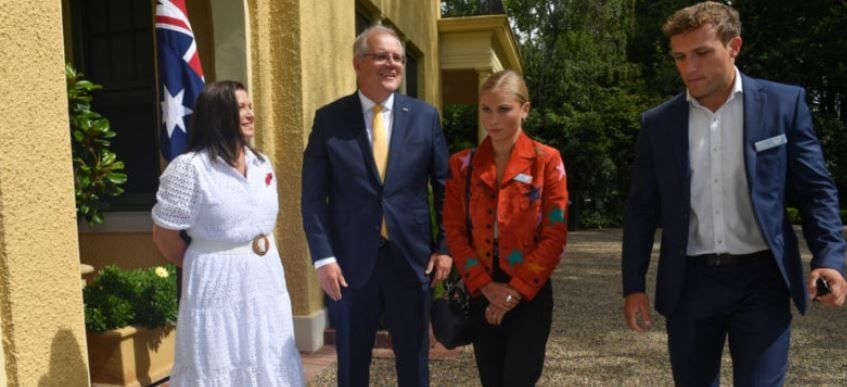 When the situation was met with both heavy scrutiny and praise, Ms Tame stated that she was not going to hide her emotions around the situation as many would have expected her to.
"The survival of abuse culture is dependant on submissive smiles and self-defeating surrenders," she said.
"It is dependent on hypocrisy,"
"What I did wasn't an act of martyrdom in the gender culture war,"
"It's true that many women are sick of being told to smile, often by men, for the benefit of men but it's not just women who are conditioned to smile and conform to the visibly rotting status-quo,"
"It's all of us."
People have weighed in on the controversy with one Twitter user @SiloCircus saying "Jenny Morrison is a national disgrace. Imagine expecting a victim of child abuse to smile at an old man". While @RipperJacqthe defended Mrs Morrison by saying "I'm no fan of ScoMo but #MrsMorrison was right. Tame has no manners. Poor girl is being used by people for political purposes and doesn't realise it. She'd do her cause more good by taking politics out of it. Hope she grows up soon".