Australian singer Sia has revealed herself to be the owner of a popular NFT account on Twitter called @BiancaMedici69 which has over 20k followers.
@BiancaMedici69 had been teasing followers for days about the real identity of the account owner with the Aussie finally revealing herself to be the owner on March 8. In a post on Twitter Sia said "Dear frens. Thanks for being so cool and letting me into your world. I got into btc in 2016, picked up some alt coins in'17 but was never much of a speculator. I became a fan of @VitalikButerin and his particular genius but it wasn't until I saw the birth of punks, kitties and the wave of art that followed that I truly fell in love."
Sia went onto say that "I'm an artist and appreciate any medium that allows people to express who they are inside. I hope that you'll allow me to keep supporting this ecosystem, sharing, and creating things that can help move the genre forward."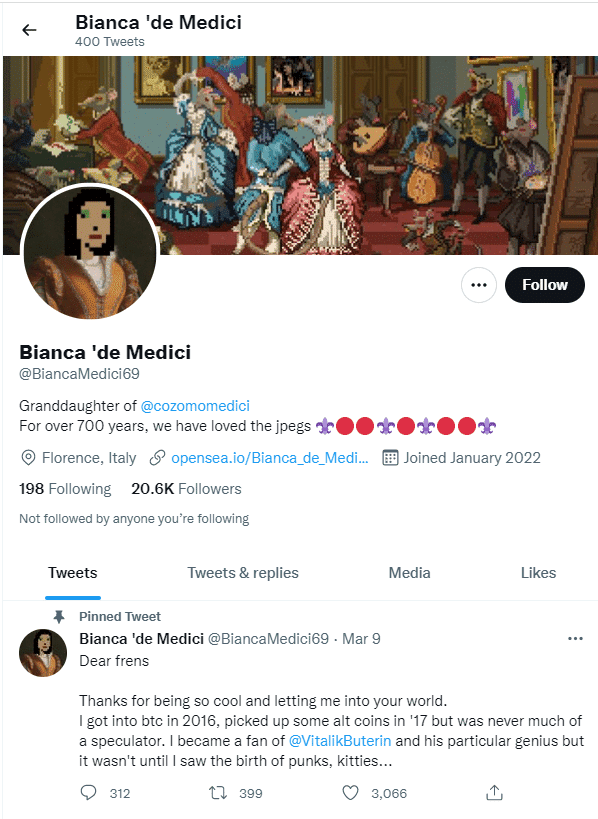 The announcement comes six months after Snoop Dogg revealed himself as a popular NFT account owner with Sia referring to herself as the 'granddaughter' of Snoop's NFT account @CozomoMedici which has over 200k followers. Sia opened the account earlier this year and now has a collection of over 550 NFTs while she also revealed her own NFT collection on OpenSea last year.
People online were enthusiastic to welcome a new member to the NFT community with @Gr33N666 saying "Never hear of Sia singer… But the NFT world welcomes all the new entries". Others, however, were a little more hesitant about the news with @oddlypop saying "now sia… the NFT account… what is going on here?" in relation to many celebrities entering the world of NFTs.
Together Snoop Dogg and Sia have donated 35.58 ETH to Ukrainian NFT artists in support of the Russian invasion on Ukraine.