"Persons outside Australia" have been using daily Federal Court YouTube coverage of Ben Roberts-Smith's defamation trial to publish sensitive information about witnesses testifying in the case.
The court heard that foreign entities were trying to use the videos for analysis of information, before attempting to "publish information which identifies, or tends to identify, sensitive witnesses".
The widely covered trial has featured testimony from former and current Special Air Service Regiment (SAS) soldiers who served with Mr Roberts-Smith in the Australian Army.
Mr Roberts-Smith claims he was defamed in a series of newspaper reports in 2018, which alleged he participated in and facilitated unlawful killings (which constitute war crimes), bullying and domestic violence; allegations the Victoria Cross recipient vehemently denies.
The Federal Court has been uploading both sessions (morning and afternoon) of the case on their official YouTube channel, to "accommodate open justice" and make proceedings easily accessible for those interested in the trial.
The videos are slightly delayed, with audio detailing personal information edited out before being posted.
However, this has resulted in sensitive information by witnesses (predominantly current or former defence personnel who cannot have their identities revealed for national security purposes) having been inadvertently disclosed.
Justice Anthony Besanko is overseeing the trial and ordered that the YouTube videos of sensitive witness evidence cease immediately, after the Commonwealth made an application behind closed doors (Mr Roberts-Smith's legal team were in support).
"Action against a person to correct the situation is made difficult, if not impossible, where the person is located outside of Australia," Justice Besanko said.
Previous arrangements for a recording of the hearing to be made available on the Federal Court's YouTube channel have been discontinued for the reasons given in Roberts-Smith v Fairfax Media Publications Pty Limited (No 34) [2022] FCA 532 https://t.co/OnJt6WNCdF… 1/2 pic.twitter.com/PDA5KfuPM4

— Federal Court of Australia (@fedcourtau) May 12, 2022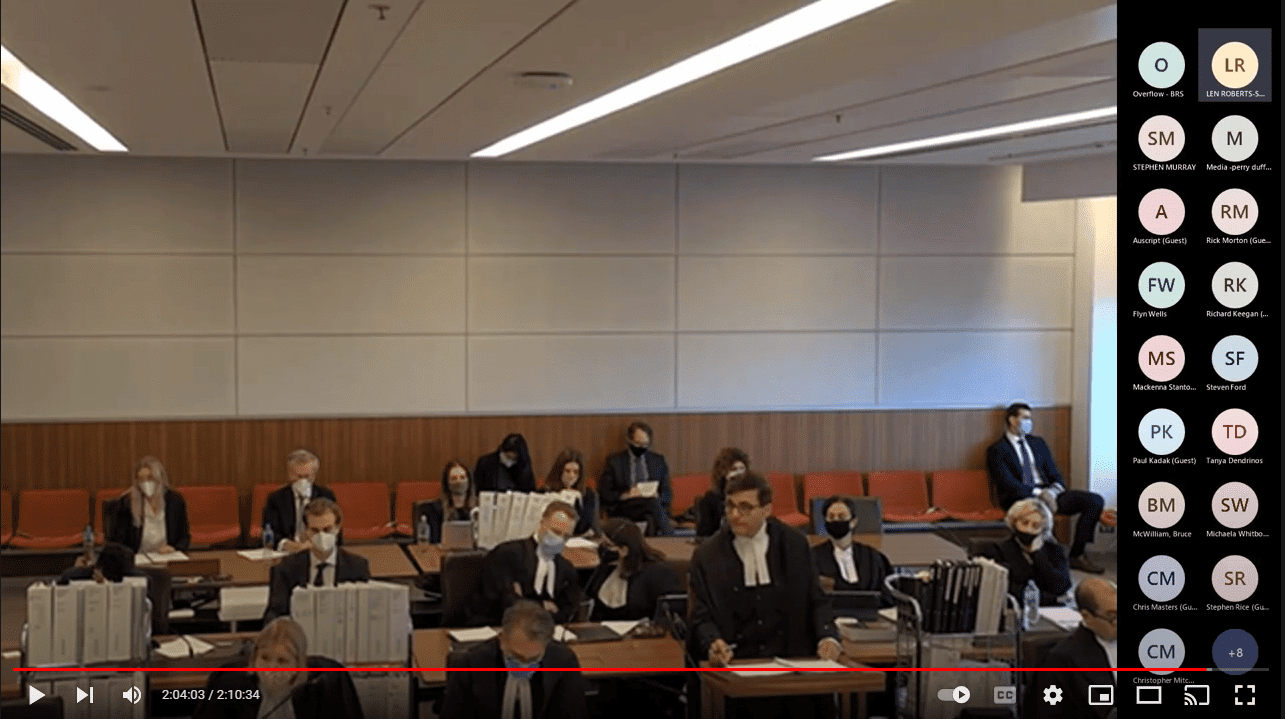 Nine Entertainment opposed the change, saying in a tendered document that "open justice" was of paramount importance, and suggested geo-blocking (restricting internet access based on a user's location).
There has been no evidence or reports of Australian national security or military information being accessed.
In the trial itself, Mr Roberts-Smith was today accused of murdering an Afghan teenager after being stopped by an SAS patrol in 2012.
A former elite soldier, codenamed "Person 11", said he did not have any recollection of the mission even occurring.
"I don't recall any engagements," he said.
The defence then showed photographs of three detained men, suggesting they were found in a vehicle, and that Mr Roberts-Smith was complicit in his involvement; Nine's counsel Nicholas Owens SC then alleged that the teenager was "murdered by Mr Roberts-Smith in the compound".
"I disagree with that," Person 11 responded.
The trial continues.