A passenger plane with 22 people on board that seemingly "disappeared" in cloudy weather over Nepal's mountains is close to being found, according to local emergency services.
The Tara Air aeroplane was on a 20-minute flight between the resort town of Pokhara (200 kilometres from Kathmandu) and the mountainous town of Jomsom on Sunday.
Nepalese aviation officials said that the aircraft lost contact with air traffic control when preparing for approach, which sparked immediate concern due to the surrounding terrain.
19 passengers and three crew were on board, and it is yet unclear their status (rescuers are very doubtful of any survivors).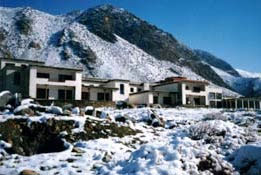 Tara Air spokesman Sudarshan Bartaula said that despite the original search having to be stopped for the day due to deteriorating light throughout the vast ranges, mountains and gorges enclosing Jomsom, officials were closing in on the plane's whereabouts.
"Rescuers have narrowed down a possible location of the plane, but have not found any sign of the aircraft," he said.
Nepal's civil aviation authority confirmed that private helicopters and an army chopper were also assisting in the search.
The flight path is a popular one for Nepalese tourism, as the aircraft will fly between mountain ranges before landing in an open valley, a boon for foreigners who enjoy trekking on the mountain.
In what is hopefully not a bizarre case of déjà vu, a Tara Air Twin Otter also crashed after takeoff on the same route in 2016, killing all 23 people on board.
There have been at least three other fatal passenger plane crashes in the last eight years through the area.