A 5.9 magnitude earthquake hit the province of Paktika yesterday leaving over 1000 people dead and several hundred injured with authorities saying deaths will continue to rise.
According to the United Nations (UN) over 2,000 homes were destroyed in a community that sits 46km southwest of the town of Khost, leaving thousands displaced and 1,500 people injured.
The large tremor was reportedly felt in neighbouring Iran, India and Pakistan after it hit at about 1:30 am local time, also affecting several other provinces in Afghanistan.
Experts believe the earthquake happened at a depth of 10k with Interior Ministry official Salahuddin Ayubi having said it's expected the death toll will rise.
At least 250 people have lost their lives after a powerful earthquake jolted #Afghanistan's Paktika province.

Prayers for the victims of this horrendous tragedy. Sadly, the world has been quick to forget about #Afghans. #paktika #AfghanWomen #earthquake pic.twitter.com/Rcygdaq2OR

— Hamza Azhar Salam (@HamzaAzhrSalam) June 22, 2022
"Some of the villages are in remote areas in the mountains and it will take some time to collect details."
United Nations Office for the Coordination of Humanitarian Affairs (OCHA) has reported that over 70 per cent of housing was destroyed in the Gayan district, largely due to poorly constructed houses and infrastructure.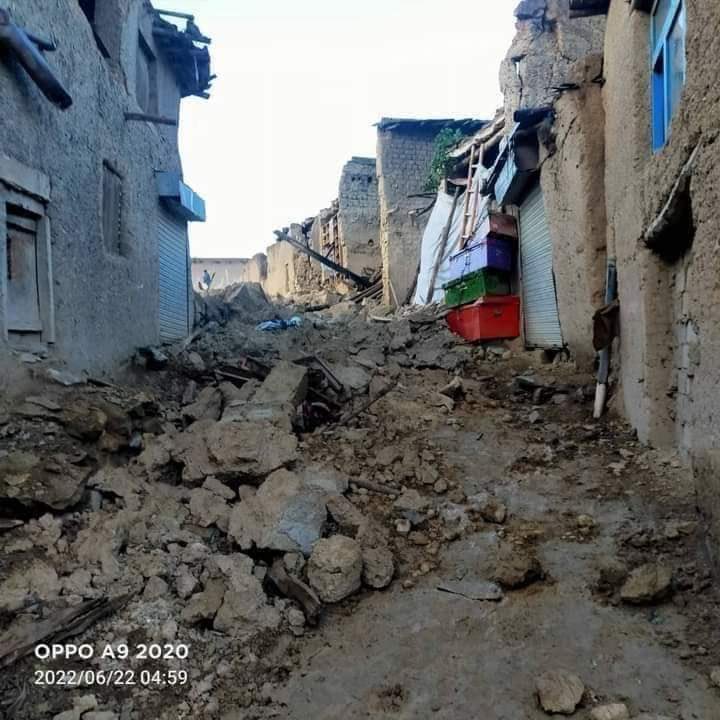 Taliban officials have sent helicopters and aid to the affected areas with Afghan's Minister of Foreign Affairs official Abdul Qahar Balkhi telling Al Jazeera that they're doing the best they can under the imposition of international sanctions.
"The Afghan Red Crescent has immediately dispatched emergency aid to the area along with the Turkish Red Crescent and some of the other relief agencies that are present here.
"The prime minister of Afghanistan has announced 100 million afghani, the local currency, cash assistance to the victims and their families."
Afghan officials have "urged all aid agencies to send teams".
NEW: Afghans digging mass graves after more than 1,000 killed in Afghanistan earthquakepic.twitter.com/QQEHBwKbc5

— Insider Paper (@TheInsiderPaper) June 22, 2022
UNICEF, the UN, and other humanitarian organisations have teams on the ground, while Pakistan and India have helped with medical supplies and food.
It's the deadliest earthquake in over 20 years and rescue efforts will be challenging as majority of foreign and humanitarian aid pulled out of Afghanistan after the Taliban regained control.
Australian Foreign Minister Penny Wong offered her condolences to the victims and the "Australian-Afghan community, who have lost so many brother and sisters".
She said Australia will work with partners to help with the crisis.
More details to come.